May 8th '09
of course not Veronikka! You talk to us all the time, you might as well have been there from the start! You are part of the "extenuating circumstances"...you didn't find us until later!
May 8th '09
do i have to post everyday to join bc i just really don't have time for that but i like to know where other ppl's baby the same age are doing...developmental, food wise, height, weight etc.....and how how all the mom's are doing.
i believe i have already introduced myself but in case i didn't. i'm nikki my baby boy caden was born Nov 9th (6 months TOMORROW) gosh he's grown up so quick!
A little bit about me:
I am 23, been with Caden's father for 3 years. Full-time student working on BA in Business Management and starting Photography classes either this summer or Fall. I can't wait. It's my passion, always has been. My SO JUST recieved his BA and is starting his Master's in August to be a H.S. baseball coach/History teacher. Unfortunately the this time we are struggling financially because we live off student loans that have recently ran out. My SO works as an Umpire but it still doesn't cover our necessities, especially since my fat head has grown out of everything almost....bassinet (& we have no crib, working on that), almost too big for his car sear but he has clothes at least & food. So we are still thankful! I hope you other moms aren't struggling the way we are right now, if so it will get better, I know ir it will. Everyone gets in binds from time to time!
So here's so more info8)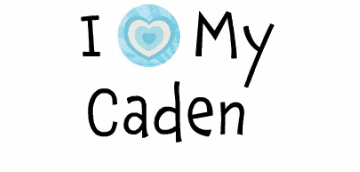 i made this next one :P eh, i try.....haha:wink: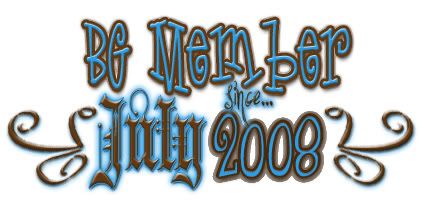 A little bit about Caden:
- Eats organic baby food
- Like's to spit food on me!
- Eats Cereal/Oatmeal
- Cracks up at me & daddy!
- Cracks me & daddy up ALL DAY LONG!!!!
- Says mamamamama & dadadadada
- I SWEAR THIS CHILD CAN SAY "I LOVE DADA!! Although he prob has
no clue what he's saying, he IS saying it! It cracks me up!
- Rolls over of course (although once he learned to roll from his back to belly, now we won't roll from belly to back.....go figure)
- Has no desire to crawl, we're working with him daily!
- Won't do tummy time very long unless me or daddy is down there with him!
- LOVES his baby Einstein Jumper, bumbo, & Soothie Center
- Would rather be naked
- Prefers to be outside
- Won't go to sleep unless I sing him "Jesus loves me"
- Would rather stand up/ try to walk
- Can sit up on his own for a few seconds! (He's almost threre!)
- Is the love of mine & his dad's life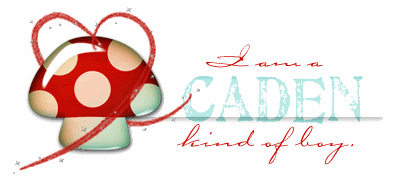 ok I think that is enough! lol I'd love to hear info on other mom's & theeur baby's!!!!!
Feel free to PM/PT or ask any questions you have! Thanks for reading!
I'd love to know what other 6mo old are eating in a day. how much, how often? What ime is there first/ last feeding? How many bottles a day? How many ounces in a bottle? Just curious how other ppl are fitting formula, baby food, rice, & oatmeal in one day. Also has anyones baby started self-feeding like cheerios or something? Is your baby holing their bottle on their own? Caden won't yet. Ok ladies thanks for any input you may have, this is something I have benn wondering about for a while now!!!!
Hope all the mommy's & baby's are good!!!!!!!!!!!!!:D
(sry if anythings misspelled, I am soo tired)

AND-
Name: Nikki
Birth date: 08/07/1985
Where your from: Mississippi
How long you
May 8th '09
Good night ladies....I am sooo tired & have a looong day tomorrow!
:D
May 8th '09
Name: Lynne
Age:27
Where your from: Now Nevada
BG member since: March 18, 2008
# of kids: 2
Babies Name(s): Joe and JJ
November Baby's Bday: 11/18/2009
What you should know: I am super nut!
May 8th '09
I changed the introduction
May 8th '09
Quoting Emory's Mama *BCF* VB OHT:
May 8th '09
Here's my personal opinion (to Nicki and Manda and anyone who asks for it...) if you want to be part of our clique, you need to check in with us every now and again.. It's not enough to have been due (or given birth) in Nov '08. You need to CLICK with us, KNOW us, KNOW what we're going thru, TALK to us, BE friends with us. We don't bite, we're NOT catty or bitchy or anythng like tat. We TRULY care about our friends in the group. Whether you delivered in late September, sometime in Oct, Nov, OR Dec, if you talk to us, relate to us, become our friend, you CAN become a part of the BCF clique.

OK, am I just being retarded here or do y'all agree iwth me?
May 8th '09
IM HERE!!!
I will type my 'intro" tomorrow... umm but dont think i need one, lmao he he
Lindsey.
2 kids; Bundaberg, Australia
19440 posts
May 8th '09
May 8th '09
Name: Shelby
Age: 20
Where your from: Utah
BG member since: april 7, 2008
# of kids:1
Babies Name(s):Emory Rae
November Baby's Bday: November 15, 2008
What you should know about me: I dont like questions like this one! lol