Stroller Addicts Anonymous
aperture
2 kids; New Jersey
14866 posts
Sep 10th '08
SAA Ladies

Let's talk about our addiction. How many strollers do you currently have? How many stroller have you had? Your stroller history? Which one is your favorite and which one you despise or do not like or couldn't care for?
Feel free to post pictures. If possible please post a picture of your actual stroller not the stock one. We want to see "in real life" picture (color wise).
Of course, if you have any questions about any stroller or need stroller advice, don't afraid to ask our Baby Gaga Stroller Guru- our lovely Chele.
Sep 10th '08
Chele . . . is there a great compact jogging stroller? I really want the BOB revolution, but it's to bulky, and I'm not sure if it going to fit inside my trunk with the Bee.
TIA
Sep 10th '08
bahaha i have one. The Graco sterling! Totally fab. Totally .




lmao...
viena
3 kids; London, United Kingdom
2556 posts
Sep 10th '08
i have the mutsy urban rider, and a presto, also had a peg pergoand a pulsehave fallen in love with the skate but my other half will kill me if i get another...
Sep 10th '08
gosh i have had so many strollers with my son i couldnt tell you the brands anymore... he's had about 10 or 11 throughout his whole almost 3 years of being here... Now since i have gotten rid of all but three i have to go choose one for my baby girl but i already know how that shopping willend up
Sep 10th '08
Fun thread!
I have had a Combi Cosmo DX, Kolcraft Contours 3 wheeler and then 4 wheeler, Maclaren Quest, and now my fave Peg Perego Pliko! I hated the Combi because it's handle bar is way too low and the storage basket was horrible.
I got the Kolcraft 3 wheeler because I desperately wanted a rear facing stroller and didn't want to pay a fortune. The handle bar was way too high for me. I swear it was made for a giant. Then I got the 4 wheeler because the handle bar was llower and the seat was wider. Well it turns out Kolcraft Contours suck! They are way too heavy and bulky, not to mention a pain in the ass to fold.
So then I got a Kate Spade Maclaren Quest. I got it used and was not happy with the condition I received it in and ended up using it for a short time and selling it. Now I have my Pliko in Mod Verde and I love it. However I just found out I am expecting baby number 2 and will be searching for a double soon!
Combi


Kolcraft Contours 3 wheeler


4 wheeler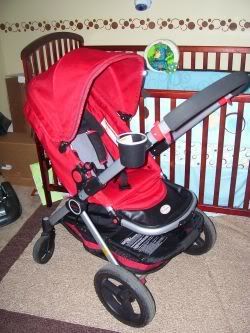 Maclaren Quest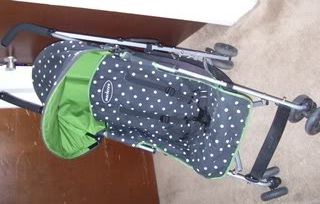 Pliko

user banned
SAN FRANCISCO, CA, United States
24574 posts
Sep 10th '08
*edited to add pics*
These are just Lauren's strollers...I won't even get into the ones we had for Ryan! LOL
We started out with the Pliko P3 & Primo Viaggio carseat! Not a bad place to start! LOVE the stroller...HATE the carseat! OMG, that's a lot of pink! LOL Sadly we no longer have the Pliko...I wouldn't mind getting another one though! :wink: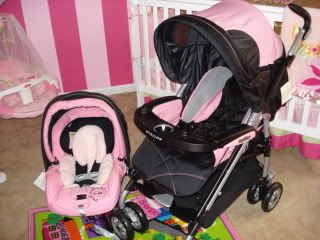 About 2 months after Lauren was born we got the Bugaboo...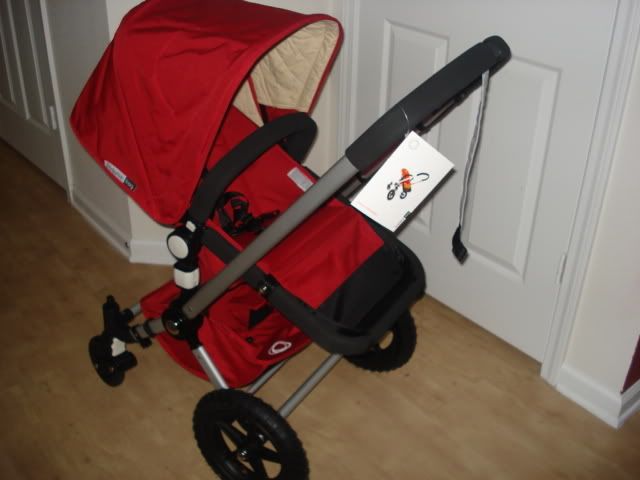 How boring right!? It's just another Bugaboo! But then I found Indi Bebe!!! Woo Hoo


...and I had to have another! LOL Oh, this was voted "Best Pram/Stroller"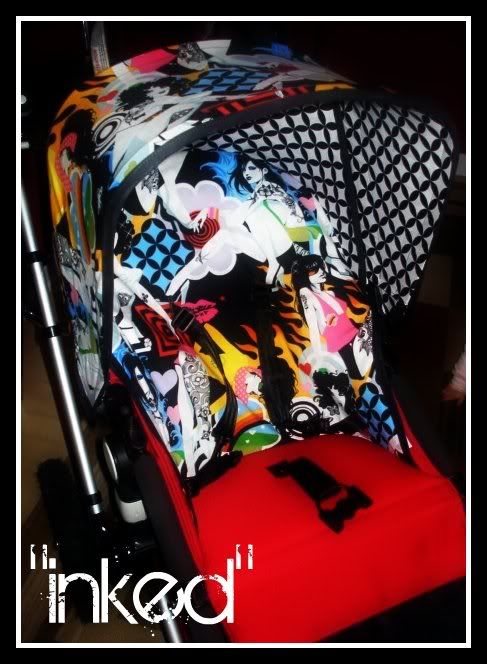 Then I got bored with the Bugaboo all together and bought a Quinny Buzz! Love it!

You can view more stroller pics here...including the Bugaboo/Quinny side by sides!
http://www.flickr.com/photos/norcalmommy/sets/

This is the latest toy...bought for vacay but it's so easy to use and light wieght that it's now my everyday stroller!


The End...for now!!! :twisted:
user banned
SAN FRANCISCO, CA, United States
24574 posts
Sep 10th '08
Sep 10th '08
My dad was saying how hewas thinking ofgetting me a jogging stroller for Mylah =] im looking for a cheap one though, not one of those super expensive ones lol something below $200.
Sep 10th '08
Sarah, Congrats :) . Thank you also for participating :)
Chele: I just sold my Pliko! Finally. The lady has an Uno, but it's to heavy and bulky for her, and she said it was a pain to fold. Her son is only 8 weeks old.
LOL ... I know. There's this store called Buy Buy Baby near us, and it's like stroller heaven. You can find almost every stroller out there. They have too much jogging strollers to choose from, but they are all bulky. I need one for jogging. I'm gonna start jogging because I'm starting to look like a freaking cow! can we all say Mooooooo!
ETA: I do not like the Skate too. At first, I was excited about it. When I saw one IRL, it looks like a freaking ship because it's too wide and bulky.
user banned
SAN FRANCISCO, CA, United States
24574 posts
Sep 10th '08
Congrats on selling the Pliko, finally! What are you gonna do with the funds!? Or should I say...what JuJuBe are you gonna buy with the money!? LOL :wink:

Are you down to only 1 stroller now!? The Bee!? OMG, my hubby would love you! LOL I think he'd die of shock if I only had 1 stroller!
Sep 10th '08
Quoting skijerze [OG] since 2006:
Sep 10th '08
So far this is our stroller collection ......
The Special Collection BugabooCameleon for Neiman Marcus's 100th Anniversary (Limited Edition), The Preppy Lacoste Maclaren Buggy(Limited Edition) and last and most definitely not least is our Bugaboo Bee in Blue of course( its currently hanging out in the basement,waiting for its debut ...we'll probably show it on Halloween :lol:)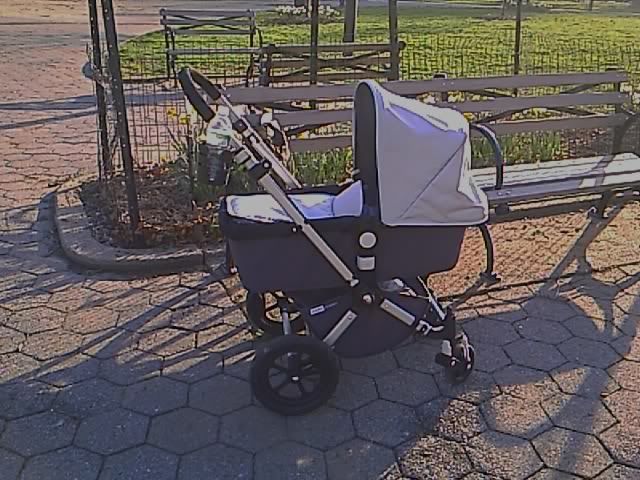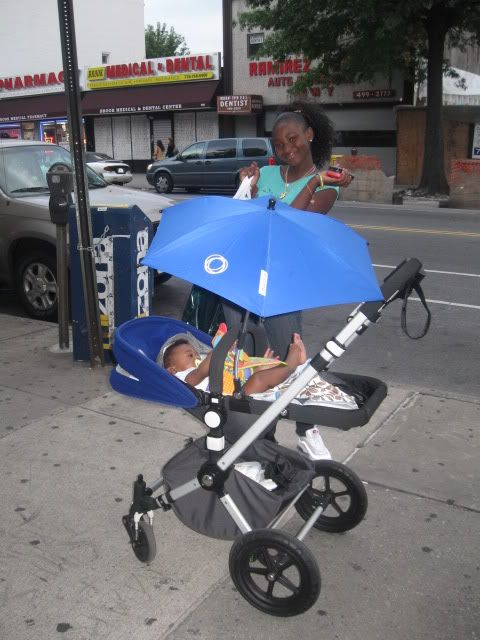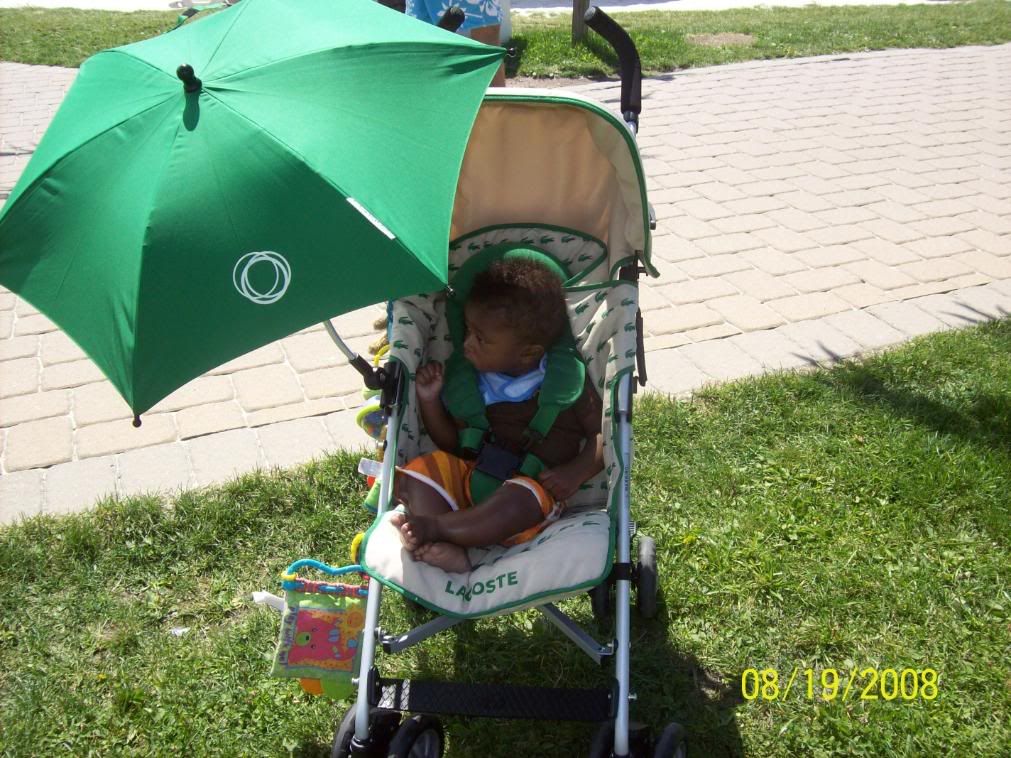 And here is a lil sumthin-sumthin for the mommies withlittle girls .... The Maclaren Juicy Couture Buggy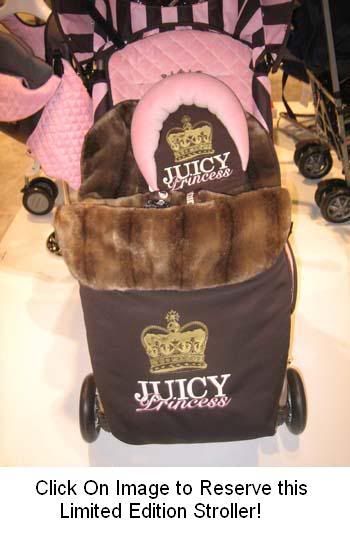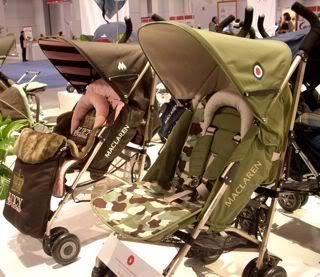 I so wish I could add this Baby to our collection ....but our Baby Girl (14 yrs old)is way too big now :cry: O & I love all of my strollers:)
Yeah I'm addicted!!!