Sep 5th '08
Welcome to JAS08!!!
The thread for mom's of July, August and September 2008 babies!! ... Here you can talk about ANYTHING, post pictures, share links and information, vent and ask questions. Anything goes but NO DRAMA! We currently have a great group of mamas here and have chatted up over 2500 pages. We won't make you go back and re-read everything, that would be torture, but you are more than welcome to jump in and introduce yourself ... don't forget your name when introducing baby and baby birthdate.
Everything you need to know in the first 5 minutes is located in this Original Post and is updated often!! ... Hope you enjoy your stay and come back often.
Myself Laura, My Son Riley and the rest of the JAS08 Moms Welcome you!
**********
YOU CAN NOT ADD JAS08 TO YOUR NAME UNLESS YOU STAY IN THE THREAD FOR MORE THAN 2 WEEKS ACTIVELY PARTICIPATING IN CONVERSATIONS (Due to mom's introducing, adding title and never coming back.. not sure why someone wants a title for a group in their name if they are not apart of the group)
**IF YOU HAVE A JAS PROBLEM PLEASE DIRECT THE PROBLEM TO RILEYSMOMMY-LAURA *******
**** SPECIAL ANNOUNCEMENTS*****
CONGRATS to Melisha on Baby to be #2
CONGRATS to Bri-ttany on Baby to be #2
Nikki we all love you, and are sorry for your loss. Our thoughts are with you always.
Brandi we love you and will always be here for you! Our hearts are now watched by Baby.
WHAT DOES JAS08 REALLY MEAN?
JAS- Started as a common interest of Mom's pregnant and due in August, then some of our mom's went early or late.. so we grew to include July and September 2008.... then we shortened it ... to JAS08... from there, .. we have grown to 1200+ pages of friendship, support and sisterhood.
We are there to celebrate our children's and each other's successes .. we are there to help pick another up and dust them off and brighten their days. ... We are a family.. .. we may not come from the same blood lines.. but we are more family to some then their own families. ... we will never abandon each other. ... we love each other and everything each of us brings to our group... like different strings coming together to make one blanket to wrap yourself in when you need it..
That is JAS08!!!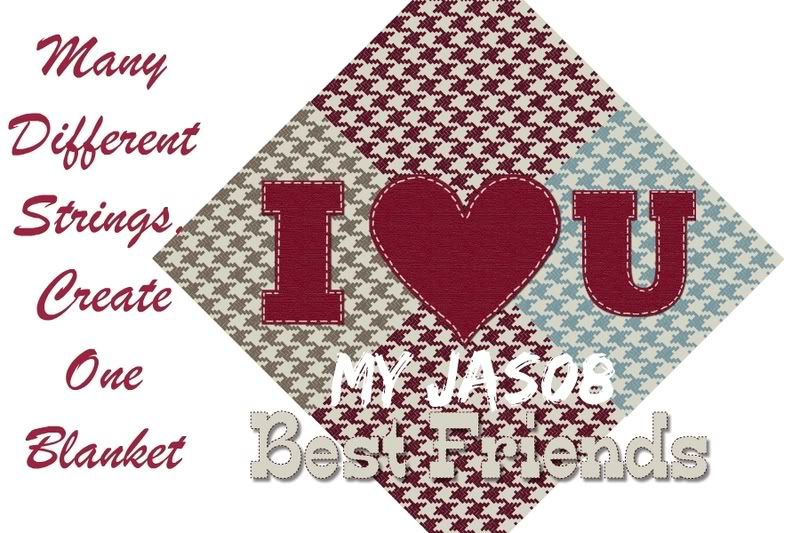 A Message from JAS mama Becki
I know some people say that it is crazy to be so close to people who you have never met. Well I don
Sep 5th '08
Hi my name is Brookelyn..I am 24...I have twins Arika and Avery that are 9 days old
Sep 5th '08
Haha yes it almost feels weird not posting my pregnant symptoms anymore lol...now i'm finally onto parenthood haha

Jathan Michael DeHaven
Aug. 13 2008
10:14 p/m via c-section
8 lbs 12 ounces 22inches my beautiful big boy =0)

He's a little over 3 weeks and very aware, he lifts his head like a maniac too lol he's got a long little neck hehe, he sleeps like a champ in our bed but he hates his crib! :( He's our first and we feel so blessed, he's absolutely perfect =0) Never thought someone so small could make such a big impact on our lives haha
Sep 5th '08
Itruly do miss being pregnant but im glad my baby boy is finally here in my arms.:DIsaiah Daniel Gonzalez
Aug 23 2008
4;53pm by inducement
8lbs 14oz 21in

He will be 2 weeks tomarrow and i can see alot of change in him he smiles alot and he opens his eyes more often i just love my lil man so much. Me and his daddy are very much happy and are excited for the future with our little man!:D
Sep 6th '08
i love having my daughter with me!
Kadince Jolyn Bolster
August 8th 2008
Born 9:27 am
8lbs 4oz 19in long
She is now a day past 4weeks and has grown so much. I can see so many changes in her already. I feel really lucky she is perfect and hardly fusses at all. She is about 10lbs now, 10lb 3oz i think and 21in long. They grow so fast! She is able to move her head pretty well and she love feeling things with her hand. She has the biggest drk blue eyes right now, sooo beautiful although i think they are gonna turn brown like mine some day. i cant wait to see the changes in her as she grows more and more!! I love being a mom
Sep 6th '08
Camden Bruce Mason
born on 8.12.08 at 10:29 pm by inducement
7lb 6oz 20 inches long

He is a lil over 3 weeks now and he is growing so fast! He has started to try and hold his head up. He is also become a lil pig. I can't seem to fill him up! He also is sleeping pretty well at night, except when he decides that he wants to be wide awake at 5am in the morning!! But I know that will all get better with time!! He is just the most amazing son ever and I am so glad I can finally hold him in my arms and call him my son!
Cat.Woman.
2 kids; Gotham City, PA, United States
9783 posts
Sep 6th '08
Greogry James Christian.
Born 08.18.08 at 4:44pm at 36 weeks and 3 days.
6 lbs 7.7 oz and 18.4 inches long.
He is almost 3 weeks. I am so lucky to have such a good baby. I love when he is awake, because he has big beautiful eyes and is so alert and watchful. (His name actually means watchful, so it's appropriate.) I can't believe how big he is getting. On Tuesday he weighed 7 lbs 4 oz and was 20.5 inches long!
I can't believe how happy it makes me just to hold him.
Sep 6th '08
Good to see so many healthy babies in August...
I see most of them posted so far have been some really big baby boys..

So, anyone have any new tricks/advice for each other to help make the first little bit a lil easier....
My tip, get a snugli... I love mine, .. I put him in it while I do laundry or make a sandwich, so useful to have both arms back when you need them.
Plus I love having him so close to me and not having to leave him in his swing or chair or something. He usually just sleeps in there, but in the snugli he's alert and looking around and I get to talk to him, ... tell him how to do laundry...gotta teach them early. lol...

Any other Tips girls?
Cat.Woman.
2 kids; Gotham City, PA, United States
9783 posts
Sep 7th '08
Sep 7th '08
Do i still get to join in on all the august mommy fun since i was supposed to be one and had her late??? I mean it'd only be fair :wink:
Sep 7th '08
Quoting Lissa & Baby Daykota:
Sep 8th '08
: ) my daughter was born

Kyra Lynn Walker
6 lbs 4 oz.
19 1/2 inches long.
at 6:48 pm


and 2 days after i left the hospital, she weighed 7 lbs.
who knows how much she weighs now! lol
:D shes my little angel and i love her so much
shes really healthy,
and my doctor said shes the happiest baby on the block.
so that makes me happy.

shes 2 weeks old today : }
Sep 8th '08
Haha thanks for keeping us sept. mommies included!:D

Elias William Contres
6lbs 15 ozs
19 in
born sept 4 @ 1253 pm

Hes going on 4 days and is doing wonderful lol! im actually up feedong him now so will post more later!!
Sep 8th '08
Gavin Jude Groah
Born 8/10/08 at 12:54 am by c-section
7 lbs, 12.5 oz
21 inches long

My little man is one month today...I can't believe how fast the time has gone by. They just grow so fast! He is a good baby, crying only when hungry or gassy. He is very alert and loves to look around at everything and makes the cutest little O with his mouth when he is hungry, like a little bird. He is my world and I can't imagine life without him!