Mar 8th '08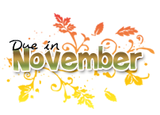 Most of us are in our


Soon enough we're all going to be in our final
We're almost done!!!
I figured we should have one main november thread...there are a couple of them in there, and we could get a little bit better organized by doing this. We can come here to talk, ask for advice and just get know one another better.

I'll start,

I'm Kim, I'm 24, this is my second pregnancy, but first child. I hoping for a healthy baby to take home, come November. I don't have my first doctor's visit until the 17 of March. The only symtoms that I'm having at the moment is increased appetite, occasional insomnia, freguent urination and being really tired.

Any one else?
Mar 8th '08
thats so scary! My due date was Nov 18 2007!!!
Springtrap
2 kids; 2 angel babies; Clay, MI, United States
37242 posts
Mar 8th '08
i'm not due in november, but i just wanted to say i love your avi!
.Carly.
1 child; Alabama
1192 posts
Mar 8th '08
Mar 8th '08
ladies...I cant believe there are some due in November already!!!

Good luck to all of you!!!!!

And CONGRATS!!! :)
Mar 8th '08
Hi all! Im mackenzi im 16 and im due november 6th with my first child. Im engaged to a wonderful man named phil. im excited for this baby and hoping for a big, strong, healthy boy come november.right now im feeling tired all the time and ive got all day nausea and a constant need to pee.
MorganC
TTC since Aug 2010; 1 child; Fredericksburg, Virginia
5 posts
Mar 9th '08
HEY and congrats to you ladies! this will be my first and my due date should be Nov 8th! I feel great so far but everyone says wait until week 8 lol! so ill be waiting!!.
Mar 9th '08
welcome ladies!!!!!

wishing you both a happy, healthy pregnancy!!!!!!!!!
Mar 9th '08
Hello all! This is also my second pregnancy and first child, and I'm pretty nervous about telling anyone at this point. Don't want to jinx it and all ... Also worried that I'm 40 this time, not 30, and trying to stay away from all the "over 40" horror stories. At least I'm not having around-the-clock sickness this time. I never thought beinga narcoleptic urine factory would be such a relief!

Good luck to all!
Mar 9th '08
Hello, my name's Breanna. I'm eighteen and due november 12.... I'm so excited! All I'm feeling lately is TIRED and slightly nauseas but hungry too (it sucks)
Mar 9th '08
Hi guys! Im Brooke and im 20, im pregnant with my first so don't really know what to expect!! Im due around nov 3rd and im really excited!!!
Mar 9th '08
Hi...Im Jessica. I am due November 13. This is my 3rd preg. and hopefully my first live birth. I had a miscarriage with my first and my son was stillborn last year. Hope for a healty baby!
Mar 9th '08
Hi girls! I'm Jenifer, I'm 29, I'm due November 12th (as far as I can calculate) with my second child. I have an 8 year old son. I'm engaged to a wonderful man, this will be his first baby and so far he's shed many tears of joy about the baby. I just found out yesterday that I'm pregnant, and going to call the doctor in the morning to get an appointment asap. I have a son already, so I'm hopeing I'm having a little girl!