Doing Things In Her Name.
*Marly*
Due November 11; 1 child; 1 angel baby; California
318 posts
Aug 2nd '10
On March 29th my daughter was born sleeping. Lately my sister and I have been thinking of things to do in her name or about donating to different organizations such as Now I Lay me Down To Sleep. We were also thinking of maybe starting a new local Organization. There is a place in my town that does Flower preservations. I took some flowers from my daughter's funeral and had them preserved. One of the option is a heart that hangs and its about $40 and I got one for everyone in my family. So I was thinking of maybe raising money so that I can offer this to other people who are interested. So I was just wondering what you ladies thought. Is this something you would want if you were in a smiliar situation or do you think not many family would be interested.
TIA
here is a pictures of the hanging heart that I would be offering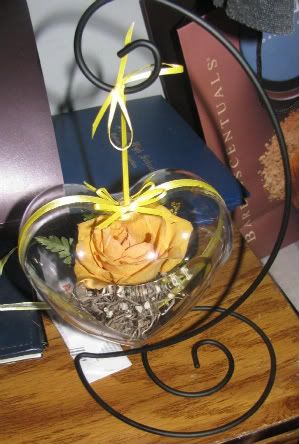 I also got this one but because of the price ($400) I would not offer it.



These where the orginal Flowers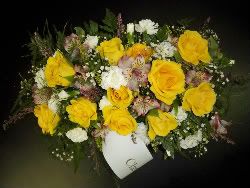 Aug 2nd '10
Those are beautiful! Sorry for your loss mama. :-(
Hunters_mommy
Due July 19; TTC since Aug 2013; 1 child; 2 angel babies; Glendale, AZ, United States
5838 posts
Aug 3rd '10
If I was in that situation I would be interested in it, I'm so sorry for your loss mama :( I think it's awesome that you are looking for ways to help mamas in your situation! Good Luck! I hope it works out for you
Aug 3rd '10
Oh I have to tell you that after reading your blog I am balling. My heart breaks for you.
I think your idea would be great. I know if it were ever me in those shoes I would want one.
Its so kind of you to think of others. Your daughters memory will live on!!
Aug 3rd '10
i read your blog and im in tears.
im so sorry for your loss, i coudnt imagine your pain.
i hope your idea works out.
user banned
1 child; Boston, Massachusetts
30985 posts
Aug 3rd '10
sorry to hear about your baby. thats so nice what you're thinking of doing in her name.

you should learn how to preserve flowers yourself!!!!
i still cant get over this dried flower arrangement costing $400..... holy shit!

Aug 3rd '10
Thank all you ladies so much for taking the time to read this post and to those who read my blog. Yea 400 is a lot especailly when i was also trying to pay for her funeral but it is completly worth it. Everything was custom made the border and all. It even says her name on it too. It would be awesome to be able to do them myself but it would be a lot of work and money to buy the equitment to do them. but again Thank YOU All!
Aug 3rd '10
I really wish there had been something like this done when I lost Ameeliya.
It's a good idea, hun.
*hugs*
Aug 3rd '10
Oh I love the heart thing! I would absolutely want something like this! Its a lovely reminder :)