Jan 7th '08
My Angel "Sophia" went to heaven on December 19th, 2007
I was due June 22nd, 2008
Jan 7th '08
I was 6 weeks when I miscarried so I don't have a name but my Angel received it's wings on December 13, 2007, my due date was August 6, 2008. By the way I love this idea all of you are amazing and you all are the reason I keep my head up everyday in hopes of having a successful pregnancy one day, so Thank you all so much!
BAЯBIE
18 kids; d***o,
42341 posts
Jan 7th '08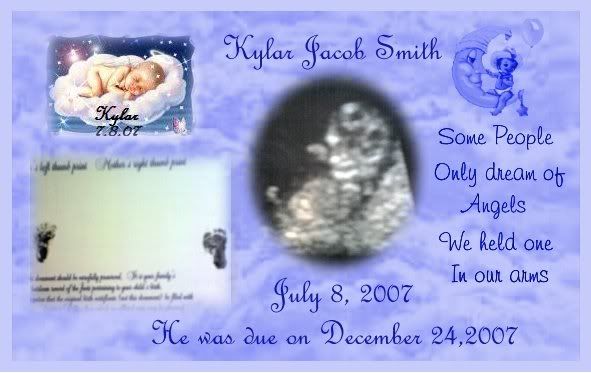 Jan 7th '08
My angel was supposed to be born july 14, but went with God on December 11, 2007 R.I .P my angel
aquakttn
TTC since Dec 2005; Pennsylvania
6 posts
Jan 7th '08
Our first Angel grew wings in May 2006.

Our second Angel grew wings in June 2007.
Jan 9th '08
My son Noah Patrick and his twin sister were born on Febuary 22nd , 2005 11 weeks early. Noah had something wrong with his heart and passed away on Febuary 24th, 2005 at only 2 days old.
BreeMarie
TTC since Aug 2010; 17 kids; Haysville, Kansas
39 posts
Jan 9th '08
I lost Little Bean on January 3rd, 2008. I was only about 6 weeks along but I loved Little Bean as if she'd been a part of me forever. :(
Jan 10th '08
My little angel was born on January 5,2008. Bradley James due date was June 5,2008. He made it to 18 1/2 weeks but my body just wouldn't hold him. It took me ten years just to be able to get pregnant naturally. I have had insemination X 3, and that never took. So it was a superise when it happened on my own and total disppointment when this happened. The one thing that I was happen that after checking the baby out that he was perfect and everything was working. Just I couldn't keep the ambotic fluid in and kept bleeding.... I pray that noone else has to wait this long, and suffer a loss. I plan to continue trying again, and pray that the doctor can find what went wrong. :cry:
Jan 12th '08
Well....I'm pregnant again with my 3rd baby i have two babies from my previous marriage "Alexis Lynn" who's 3(November 8,2004) and "Destiny Nicole" who's a 1 and soon to be 4 months (September 29th, 2006)and the third one i haven't a clue what it is found out that i'm pregnant again sometime in November missed first period of the month in December and waited to take the test on the 15th took 3 test all with same results haven't a clue what it is due sometime in August 11, 2008 (I'm about 10 weeks yesterday) going through a divorce right now and trying to get on with my new life with my boyfriend of a little over a year but known him now for 8 years...he's the greatest...I'm sorry for everyone's loss i can imagine how that felt...i lost my grandma back in march 29th and laid her out to rest on April 4th (March 29th was my step-sisters birthday...my grandma was supposed to go in for an uterus removal but when the doctors opened her up they sadly had to close her back up and told everone that there was nothing they could of done for her...my grandma had somekind of tumor that grew rapidily intwining in and out and around all of her major organs.....we lost her)...every since that day i remember the last time i saw her it was heart touching i sat there sitting in a chair just starring at her in her hospital bed for 3 hours just staring at her watching her interact with family and trying to enjoy life and visiting hours...she wanted us to be happy and strong for her when her time came to an end but within that 3 hours of just watching her i was talking to my cousin right next to me and he told me that my grandma was pointing to me and wnated me to come over to her and see her...so i did....as soon as i was over there i reached down for my grandma's hand and was caressing it with tears filling my eyes but trying to hold them back to be strong for her but on the insides was crying my eyes out like a baby...i then hugged my grandma with this big long hug and told her that i'm sorry and that i loved her soooooooo much..i remember i kept crying and telling her i'm sorry then a couple of days later she was gone....at her funeral i tried to stay near her for as long as i could (even though i have this fear of the dead and being near them) i rememebr just staring at her while trying to be strong for my grandpa then and in my mind telling her that i'm sorry like a million times and told her that i was going to change my life and make her proud and i want a happy life and marriage like she has with my grandpa....you see in my first marriage my hsband used to abuse me in every way (he used to chock me, verbally abuse, emotionally abuse and physically abuse me...for almost 2 years i put up with that trying to make our marriage work but then last year i realized that i couldn't do it anymore so i packed up our two babies and moved with family)....never went back since....i found somebody else all along who never stopped loving me and loved me for me without me having to act as someone else and loves the kids just the same....he's great....truely amazing and now still a shocker i'm having his first baby....we wanna get married but my divorce hasn't gone through yet i just convienced my husband to sign over all parental rights to me and grant me full custody of the kids since he doesn't have the money for child support and all i want is to know that my babies are always going to be safe and happy and that i could care less about his money...although the money does help out with the kids but he's about $2,000 behind so i guess you can say that i'm kinda letting him go from his responsibilities....but anyways i had a bad dream last night that i was miscarring and maybe that was one of my fears with being pregnant but that was the first time i had a dream like that with any of my babies....my stomach was at it's worst last night cramping like crazy and the only way it went away was by breathing in deep almost like lamaz and praying to god in help and protection of me and the baby....it just really scared me...i lost my insurance back in November 30th and am trying to start it all back up...sometime this week my boyfriend and i are going to go to my case-worker and show her proof that i'm pregnant and get everything started again....but i'm going to go for now...my prayers are all out to you mothers and for the losses....please keep me in your thoughts....thanks.:(
Jan 14th '08
Kayden's Birthday is November 27, 2007
He got his wings November 28, 2007

Sometimes the only thing that gives me comfort is knowing that he is in heaven and that there are other angel babies with him.
Top Shotta
17 kids; Punta Gorda, Belize
44735 posts
Jan 15th '08
Jan 15th '08
Because I didn't see her name in here yet, and she deserves to be in the Angel book....

Vadie Griffin joined the Angels on December 30, 2007. May she rest in peace with her mommy and siblings. :(