Child Harnesses: Good or Bad? Or No-one Else's Business?
So, today I was out at our local mall with Mike and the kids, we were just out to walk because, to be honest, our mall sucks, has chased out half the stores that were in it, and there's nothing to do. While out, I noticed a mom and her, probably 18 month old at the most, daughter out for a walk as well. The mom had her child on a harness, and they were content, the daughter stayed near the mom, no one was upset or fussing, no one was harmed.

And then this old lady walked by and shot this woman a snide, snooty look. And I could not for the life of me figure out why initially… could it be because the mom is in a t-shirt or something? No, because then I'd have gotten a look too, and when she looked to me and Mike and the kids, she smiled as broad as you could. Maybe her lack of a man with her, some people are like that around here? No, because her wedding band was on her finger in plain sight. I was stumped. Then I figured it out when I heard this lady say to her friend "… just like a puppy."

She was being judged for her harness.
 


Now, before you ask, no I didn't get in this old woman's face and say something, because I had the kids with me, and to be honest she was so far off when I overheard that snippet that it wasn't worth it, besides the woman didn't even seem to notice or care what the lady had said or how she had looked at her.

That said… I don't get the judgment at ALL. She wasn't doing something evil or mistreating her kid, she had the child in a safety harness. That's nowhere near hurting her kid. And yet, all around, parents are being judgmental or holier-than-thou, all because of one of those pesky parenting choices that they don't agree with.

Shame on these people for having a parenting preference and doing things differently than others!

I mean come on. It's a harness, not a shock collar. It's not going to hurt the child to be on a harness, in fact, in busy areas, it can be a blessing.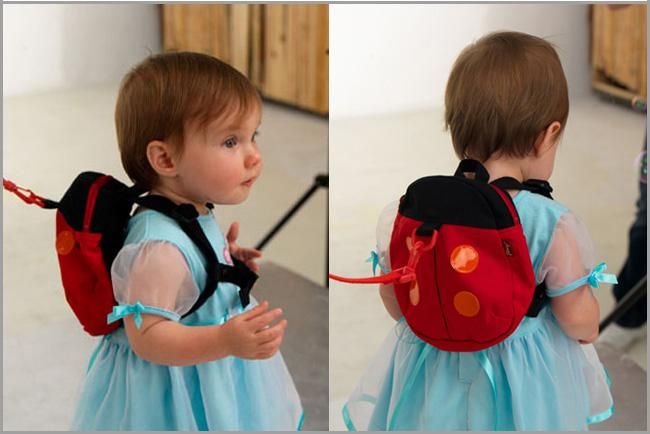 I bought one of those for the older munchkin when she was learning to walk. She was EXTREMELY independent and wanted nothing more than to get into everything. This was fine in our small town, I held her hand everywhere we went. But we decided to take a trip, around 18 months of age, to an amusement park, Busch Gardens Williamsburg to be exact. Now, my 18 month old looked like she was 3. She was and still is VERY tall for her age. She wears a 4T or 5T from the toddler department or a XS or S from the girls department, for her height, for an example. And I fully intended to hold her hand through that park.

But, in case some jerk got the idea to try and kidnap my kid… I wanted an extra line of defense. I wanted her attached to me by more than a single hand. So, we harnessed her through the park. And you'd have never known it unless you watched us remove her harness to get on rides. It was a lion, looked like a backpack. And it made me feel safer being out around so many strange people with my baby.

Did we need it? Who knows, maybe it deterred some sicko from grabbing my kid from me. But it made me feel better.

I haven't used it since then. It's literally put away until we possibly need it this summer if we go back to the amusement park. But it has its benefits for people. It can help give an independent child some freedom, it can add a safety measure in crowds, it can help when the mom has her hands full or has more than one kid, or forgot the stroller, or SO many things. I have never seen one of those things and thought, oh man that mom is LAZY! Not even before getting one for DD to use the one time did I think that.

So why is it that so many people jump to conclusions about that? All I think is, what a cute harness, and the kid is so adorable! And a responsible parent too, keeping their child safe! It's great to see people doing what works for them!

So why judge? Why can't we, as parents, just let people do what works for them?

I challenge you to look beyond the arguments of 'it looks like a dog leash' or 'it's lazy parenting', and see it as it really is… a parenting choice different than one you may use. I challenge you to look beyond the stigma of this item, and to instead of throw a look at a parent with her hands full and a child on a harness, smile and offer a kind word of encouragement. Because that's what we should be doing anyhow. As long as that child is not being beaten or abused in some other way or isn't running rampant, the parent's choices are not your concern.

What do you think? Can you look past the stigma of harnesses? Did you harness your little one?