Bloody discharge from baby (picture included) Please help!
☠Dawn[+Cambria]
1 child; New Jersey
2159 posts
Jan 1st '10
Last night I was changing my baby's diaper (4 days old then) and there was a bloody discharge on the wipe. It wasn't like I had just wiped blood from a cut, instead it was mucousy and gooeylike a discharge. I was really scared so I called the doctor. I told her I had wiped from front to back so I didn't know where it came from and she told me it's probably from her stool and that with her hormones and everything it's ok. I now know that this discharge is coming from her vagina because everytime i've changed the diaper since then there isa small amount of the discharge on the diaper where her vagina rests. Today there was even some of the discharge still sitting on her. I'm not sure if i'm just overreacting or if I really should give the doctor another call. Please if anyone can help me it would be very much appreciated i'm so scared for my baby girl!

Picture: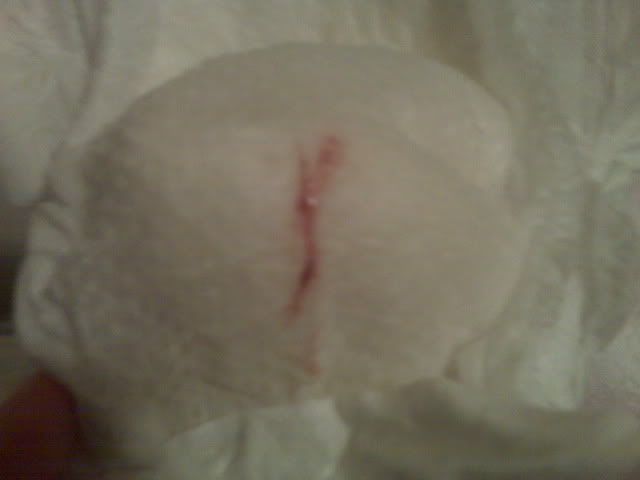 Sorry it's so close but if you can tell me what it is i'd appreciate it!
Jan 1st '10
its normal... it will stop when ur hormones work out of her system
Jan 1st '10
VERY normal. My nurses were just in my room reexplaining it to me. Mucous and bloody discharge from the vagina is normal and expected.
Jan 1st '10
Thats normal as long as there isn't a lot or anymore in the next diaper change. The docs warned me of that when Leah was born. They said its normal for the white discharge and some blood in the beginning..
Jan 1st '10
Little girls can get bloody discharge like a period when they are born. It's all the hormones from mama.
Babies can also get milk come from their b**bs. My son did for nearly 2 weeks. It'll go away once the hormones are settled
Jan 1st '10
i didnt know thats was normal then again i have a boy
Jan 1st '10
Whoa.....that happens to girls :shock:
Jan 1st '10
I'm sorry. Never had that problem, but if it were me, I'd take her in right away for peace of mind. The nurse wasn't exactly there to examine, so who knows... Hope everything turns out alright.
Brity Brit
2 kids; Bedford, Pennsylvania
4891 posts
Jan 1st '10
my daughter had the same thing its fine it will go away very soon its hormones from your body i was scared to but everything was fine
Jan 1st '10
Thank you SOOO much. I'm just so worried about her, it's been in every diaper since the call so i've been very nervous. She has a doctor's appointment on the 5th already so I wasn't sure if it was safe to wait to talk to the doctor or to call them =/
Jan 1st '10
Quoting Autumn[Leah's Mommy]:
Jan 1st '10
It's nothing to worry about. It's because of her hormones. My daughter had the same thing except my hospital warned me ahead of time LOL It'll stop in a few days.
Jan 1st '10
normal. Its the hormones . dont worry momma.