Oct 19th '09
Quoting Paige&((Jordan)):
Oct 19th '09
thankyou so much :] and i found out theres a 50/50 chance since the father had it :( but for some reason he refuses to believe that there is a 50/50 chance? oh well, i just hope our son will be okay
Oct 24th '09
awhhhh your LO are so cute!! those twins are gorgeous :)
Oct 24th '09
We went back to the plastic surgeon yesterday. Cassidy's weight is up, but still no set date for the surgery. The plastic surgeon wants the go-ahead from the gastrointerologist and endocinologist. Both appointments are next week. Hopefully we will have a date by the time we see plastics again on the 4th.
Does anyone know the risks of delaying the surgery too long?
Oct 24th '09
my youngest son Adam was a cranio baby. he had sugery March 13 2009 only 5 days before he turned 6 months old. his surgery was Left Posterior Reconstruction. he only had one suture fused, the left back. i was told he had the rarest form. it still makes me cry thinking about how useless i was that I, as a mother, couldn't help my baby. i never thought i would be afraid to hold my own baby. i feel super shitty saying that but i was. i still wake up 3 to 4 times every night to check on him. i still get scard that i wont have my baby. it has been 7 months and his hair has grown back so we cant see his scar. i will post pics tomorrow from his post op and now. feel free to ask me questions
Oct 24th '09
Quoting Lisa ♥ [ebfb.fbb]:" Lambdoid Synostosis? If so yes it is rare :) Welcome and thankyou for sharing your story, it calms me down so much when i hear success stories"

thank you. we just went for his 6 month post op appt and the surgen said he was doing better than he expected. he is in physical therapy because his balance is off and they may put him in a therapy because he wont chew soft foods. but other wise he is great. we stayd in the hospital 2 days because he needed 2 blood transfusions. his face will always be somewhat semi symetric but he is healthy, happy, and perfect o me No matter what
Oct 25th '09
my son Adam 3 weeks after surgery (surgery was 3/13/09)
the right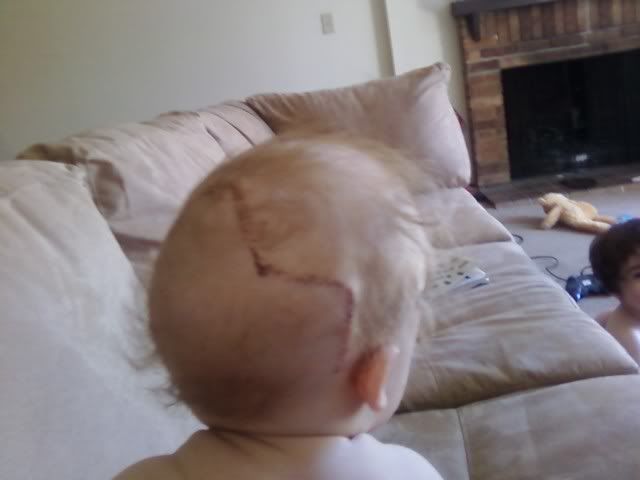 the left

Oct 25th '09
He looks great :) TY for posting
Nov 5th '09
Still no date for Cassidy's surgery. We saw the plastic surgeon yesterday and he is still hesitant about going ahead with it for now. He says since she is so underweight there is a greater risk of her dying from the surgery!
She just had a 4 hour upper GI series done today and when I got to the hospital I was handed a sheet that says they are not allowing anyone under the age of 13 to visit due to H1N1. I have no idea what I am going to do when she has the surgery since I have to take care of her brother. I've already called the hospital seeing if they can make an exception, but it looks doubtful. Waiting for that call back.
Nov 5th '09
I hope Carson is recovering well from his surgery. I have been thinking of you guys