when did your belly firm up?
*AshleyKay*
5 kids; Edmond, Oklahoma
1319 posts
Mar 16th '09
Im 20 weeks pregnant today, and Im thrilled! But, my stomach is still just kinda, flabby. It gives me the feeling that Im fat, not pregnant, but I cant remember when my stomach firmed up in my past pregnancies. With this being my 5th, Im surprised I dont remember, but I dont ... my stomach just popped out in the past 2 weeks or so. Here is my 20 week picture though -
So, is it more towards 30 weeks everything firms up more?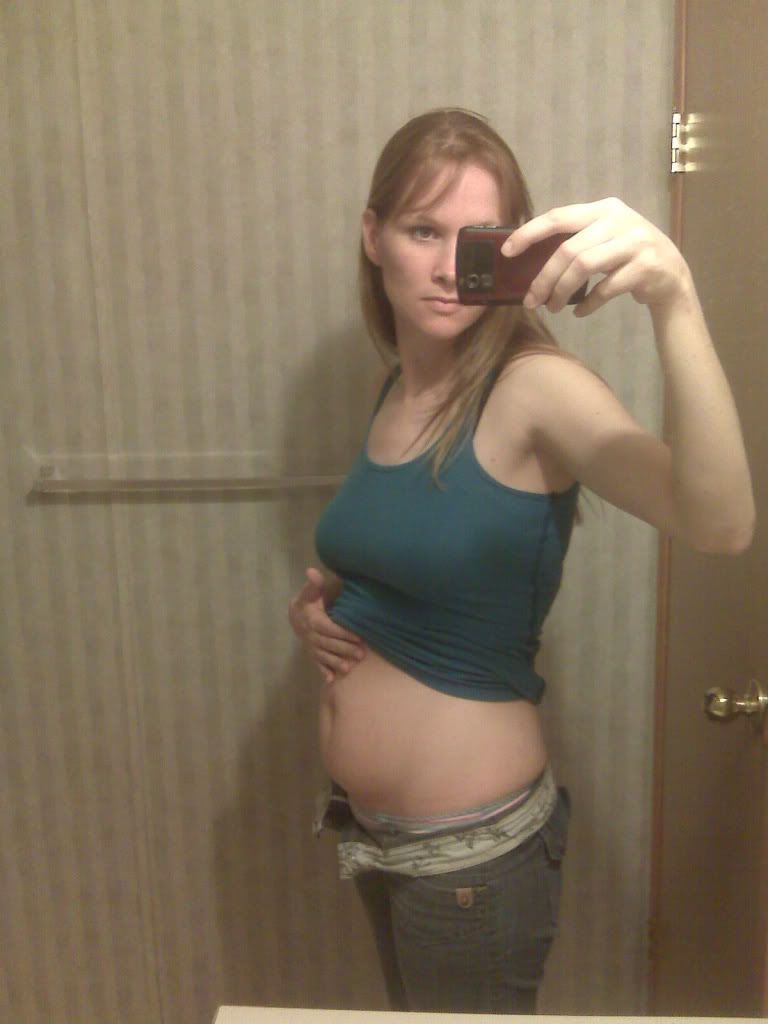 Mar 16th '09
Lol mine is flabby until I suck in lmao my husband watched me in the mirror yesterday s*****g my belly in with ym shirt pulled up lmao majority of my belly is baby. the lower part is pretty everything right above and under my belly button is pretty firm tho.But when I walk it kinda jiggles..... Makes me feel fat.....
ashtonns*
1 child; 1 angel baby; Waynesboro, TN, United States
2174 posts
Mar 16th '09
mine stayed flabby on the bottom, but was firm on the top...if that makes any sense..but it was like that from 3 months preggers...until the end...now its just flab...
Mar 16th '09
wow, you look great for being preg #5!! I know what you mean, though.But I can't remember, sorry! It will come, though. good luck!
Mar 16th '09
my baby is really low so the only "firm" part of my stomach is my belly button area and lower, and that was around 22 23 weeks i guess.
Mar 16th '09
haha ive tried the whole s*****g in thing lmao. I was at the mall last week with a friend and I refused to take my sweater off and she was just like, can ya suck it in??lol and I had to prove to her I cant! my uterus literally will not let my stomach be sucked in lol My upper stomach actually seems a a little firmer than the lower part though...i just want it to all even out! I have the "fat" feeling too..which is why Im eager for my belly to just firm up lol Id rather look pregnant and not just the girl with a muffin top lol Quoting hunnybunny10789:
Mar 16th '09
Quoting Havin' another GIRL!:
Mar 16th '09
Yes! That makes sense, thats actually kinda how mine is now! It seems to be more flabby on the bottom, and firmer to the touch on the top. I JUST got this pudge, it popped out maybe two weeks ago, so Im was a little alarmed , mostly just cause I look at other 20 week belly shots and they often look like very cute little round solid bumps! And im just like wtf is up with mine?? :)Quoting -*Hannah's Mommy*-:
Mar 16th '09
aw thank you! :)Quoting Angela with 5 kids:
Mar 16th '09
My midwife comments on how low the baby is, maybe the lower part will firm up over the next month. I'll take more pictures at 24 weeks to compare, so I guess I'll see then :) Quoting KristiMarie:
Chuck Norris
Due March 6; TTC since Jan 2013; 3 kids; 3 angel babies; Fairbanks, AK, United States
19489 posts
Mar 16th '09
i would have to say18-20 weeks for me....IDK it all depends on where your uterus is and how big the baby is... mine firmed up fast... but I started showing really early too...... but by 30 weeks you should definitely havea firm belly...


Mar 16th '09
ahh yeah, see at 20 weeks I think your baby bump is just perfect! lol It looks like its pretty solid too! I didnt start showing early at all, just about two weeks ago, so im hoping i get a cute baby pump (like yours!) in the next month or so. :) Quoting Mom2aSnuggleBug:
Mar 16th '09
haha thats great...well, at least we can rest assure its all baby, right? :) Quoting hunnybunny10789:
Chuck Norris
Due March 6; TTC since Jan 2013; 3 kids; 3 angel babies; Fairbanks, AK, United States
19489 posts
Mar 16th '09
Quoting Havin' another GIRL!:
Apr 28th '09
i know how you feel!!
i am 23 weeks now .. just onto my 6th month .. and everyone says i look like 3 months pregnant!!! This is my first however...
I just feel fat coz my stomach liek jiggles and isnt like there is a basketball stuck in there =[ .. its sadenning .. but im HOPING it will pop out sometime soon ???
at night time only my lower abdomen gets really hard.. so he must sit weirdly during the day :S .. i can feel him kicking like crazy though and i see my tummy move.. so maybe im just a slow popper..? hhah HOPE THE BELLY COMES SOON!!!!