Cloth Diaper Profile Page
NikonGirl_TOG
20 kids; California
10022 posts
Feb 25th '09
This is a sister thread to Cloth Diapers Rock b***hes thread.
Found here http://forum.baby-gaga.com/about293271.html
This thread is for Cloth Diapering Moms in the CDRB thread to post their CD Profile here. Hopefully aiding a prospective new cloth diapering mom in her knowledge gathering and decision making process.
CD Mamas- Please add your CD profile here. Tell us about your CD experiences. How long you have been CDing, when you started with your baby, share with us what kind of detergent you use, diapers you love and dislikes, how many you bought for ages and stages- anything you think might help a mom who is learning about CDing. If info has changed, you would like to add new things like links or change your story- simply EDIT your own thread- do not start a new one. When a new mom comes aksing questions- please link to this thread. :D
Future CD Mamas- Please read this thread in it's entiretly before asking question on the main thread. We hope this will save you a lot of time and posting because we may have your answer right here! :D When you are done please go back to the main thread with any questions or concerns and someone WILL be along shortly to answer you.
~Read this thread entirely before posting new questions in the main thread
~No chatting in this thread at all please
~Do not ask questions in this thread
~This thread is for CD profiles only
Following these guidelines will ensure that a mom seeking info will be able to zip through in a matter of minutes instead of hours.
From all of us over at CDRB- welcome!
Feb 25th '09
I use gDiapers. They consist of a cloth pant, a plasticized liner that snaps in, and a flushable, biodegradable disposable absorbency insert.

I have eight size Smalls, and twenty liners. I had more, but sold them, as these were enough for me. I use the same gDiaper the entire day, I just switch out the liners if they're poopy. I can handwash them and reuse them, or throw them in the washer. They air-dry in about five minutes.

I buy my gDiaper inserts on eBay and Craigslist. I also buy $2 off coupons on eBay and use them in-store, or on www.diapers.com By shopping smartly, I'm able to purchase them for less than premium disposable diapers.

Washing, I just throw them in a mesh laundry bag and they go in the washer with the rest of the clothes, then in the dryer. I use regular detergent. The liners, I pull out of the washer and lay them flat on top of the dryer to dry.

I love gDiapers, and we're moving up to size Mediums soon.
Feb 25th '09
Siiiiigh My thread will always be better suckahhh
Feb 25th '09
My name is Jess.
http://members.baby-gaga.com/member389246
I have been cloth diapering for over a year. I use:
Tiny Tush Elites-pocket diapers
Gdiapers with the Gcloth inserts
Kushies AIO-Medium (slightly still too big for my 25 lb. daughter)
Sugar Bear Bums- AIO size medium I believe
I wash with Ecos free and clear detergent.
Feb 25th '09
This is how CUTE cloth diapering is. This is my daughter, Skye, 7 months old in this picture. She is wearing a Sposoeasy sizedsmall all-in-one (AIO).


I have been cloth diapering for 3 1/2 years. I started with my 15-18 month old son (baby#2)purchasing 12 FuzziBunz sized Mediumdiapers. I loved them. Did not love so much the microfiber inserts. In front loading machines they are hard to to get deep clean. They took me all the way through potty training.
(will change the funky type later)
On baby #3 I used a diaper service and used prefolds and Bummis diaper covers for 6 months. At which time I switched over to the 12 FuzziBunz I used with my son. They took me almost to potty training before the elastic started wearing out. The fact that they lasted that long is amazing!
Baby #4 born Sept11, 2008. I started with her on cloth within 2 weeks of her birth. I bought my own prefolds, used a bunch of the diaper covers leftover from baby#2. To this collection I added some wool covers for night time use. I am gearing up to make a new FuzziBunz purchase buying 6 dipes in Medium. I love them for on the go!
My Current Stash 2/27/09 On my 15lb approx 26 in baby:
18 small unbleached indian prefolds
24 reg unbleached white prefolds
12 unbleached indian prefolds-toddler size
3 almost unusable FuzziBunz size medium (from baby#2 and 3)
2 BG 3.0
3 Super Bummis Whisper Wraps size mediums covers
3 SBWW size small (she's almost too big for these) covers
2 size Medium Thirsties covers
3 Dappis sized medium covers (supah cheap to buy!)
2 Bumkins covers in size medium (I think these are best for chunky legged babies- my slim jim doesn't fit right in them)
2 snappies (I lost some)
a buttload of Dappis doublers (also super cheap to buy)
and a pair of vinyl pants or two
an Aristocrats size small wool soaker
and Aristocrat size small wool longies soaker
Because of hard water, standard store detergent doesn't work for me. I have been using Charlie's from day 1 with these prefolds and on all our clothes and LOVE my laundry detergent. I pretreat poopies with their Charlie's Cleaning spray.
I also use cloth pads- I figured if I could clean poop out of a diaper I could manage that too. And I love it!
www.lunapads.comfor cloth mama pads
www.greenmountaindiapers.com my all time fave dipe site for info and all my standard dipe stuff
www.charliesoap.com for Charlie's laundry soap. call them if you have any questions regarding their products- they have the best customer service I have ever encountered
Youtube has tons of excellent videos on how to fold prefolds- just type in "prefold diapers" into the youtube search engine and voila!
If you are just starting out and are intimidated by cloth- the best dipe to start with is actually a pocket diaper. They dry quickly, wash easily, and once stuffed work just like a regular disposable diaper. FuzziBunz are my favorite. Altho BumGenius 3.0s are nice too. I just prefer the snaps on the Fuzz Bunz- seems softer around the tummy when baby wants to bend at the waist. I use size medium and that one size takes me from about 6 months (younger if you have a big baby) all the way up to potty training (unless if you have a chunky Gerber baby but I have tall skinny toddlers).
______
3 Main Diaper Types:
Diaper + Snappi + Cover
The diaper can be a humble but sturdy prefold used with or without a Snappi, a fitted (has it own's fasteners), or contoured diapers - all require a siaper cover. Some moms will tell you they go without, but I personally use covers. I like to keep all bathroom mess contained. If you think you'd like to try to go without covers- at least get ONE- you don't want to be out in public with a baby fully clothed with no cover that poops a full breastmilk baby poop. Dude. lol Change these diapers every 2-3 hours. The covers only need to be changed if they get poop on them or start smelling funky. I generally use the same cover all day as long as no poop gets on them. I usually change covers daily. You can do it less often or more often. I keep the prefolds in the dry pail and wash the diaper covers with my own personal laundry (we do not use fabric softener in our home- remember fabric softener can ruin diapers).
Pocket Diapers
Diaper covers with a pocket in them that you can stuff with special inserts or even prefold diapers. The entire diaper- pocket cover and insertmust be changed with each diaper change approx every 2-3 hours. Seperate stuffing from the diaper and put both in same dry pail until wash day. Once washed & dried, allow covers to cool completely then stuff- ready to use!
AIO aka All-in-ones. These come in sizes as well as one size styles, Are diapers that are the whole entire diaper in ONE. No stuffing, no pinning- just ready to use. These are by far the most expensive diapers to start up with and take the most care- these take the longest to dry. Many moms love these as they are simple to use. Front loading washers are tricky getting these clean- not impossible but tricky. May require multiple passes through the machine to get fully clean.
**** NEVER EVER EVER use fabric softener on ANY part of the cloth diaper. This includes NOT using detergents with added softeners. You will coat them with oils that will cause the diapers to repel fluids instead of absorb, they will leak and stink badly when baby urinates.
My main cloth dipe method and love is prefold- please feel free to ask me any questions via PM or through the main thread.
PM or ask me any questions in the main thread. :D
Feb 25th '09
Erica:
I have exp with Fitteds, AIO's, Prefolds, and pocket diapers.
I know how to keep them white white white haha
I have been doing them almost a year now
Feb 25th '09
My name is Megan,
I've only been CDing for about a month but I love it so much more than 'sposies any day.
I use pocket diapers with inserts. It works great for me because I can pre-stuff them as soon as they come out of the dryer and then I can grab and go just like a sposie but sooo much cuter and better all around. At night I add some extra inserts for my super soaker and he is good to go. I plan on CDing my next child from the start.
Feb 25th '09
My name is Melissa =) I have been cloth diapering since October '08. I started when my son was almost 8 months old. I'm just going to break down the choices so hopefully the "cloth world" isn't so overwhelming.
Okay there are different kids of cloth diapers. Some you fold and put a cover on...some you don't. When the baby poops (if you are breastfeeding only) it can go straight into the pail. it is so thin it won't matter. When it is more solid you can scrap it off into the toilet, or spray it off. Just put it in a pail (i use a trash can with a lid with a pail liner so I can wash it) You can use:
Prefolds/flats - these diapers you fold, pin or snappi and put a cover over the top. You can reuse the same cover alll day because it doesn't get soiled. You just change the cloth underneath it. (cheapest option!!! great for newborns because you get such a good personal fit) (Unbleached Indian prefolds are a favorite!) I use old recieving blankets for flats they work extremely well. These need a cover!

Fitteds- these are in a diaper shape. You just snap/velcro it on the baby and put a cover over the top. Much easier and you can reuse the same cover through out the day while just changing the fitted. (thirsties, goodmamas, and kiwipies are all good brands :) ) These need a cover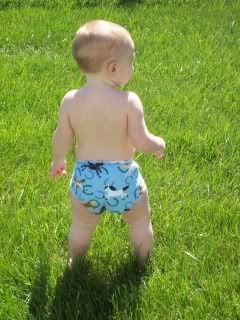 Pockets - These are my favorite. The "cover" is sewn to the cloth. Although with these you stuff the diaper with an insert before putting it on the baby. You do this right after washing. having the insert removable is better for washing because they don't get soap build up and don't take long for washing. I like tiny tush elite onesize and smartipants pockets. Also fuzzibunz and wahmies are a favorite :)

All in ones (AIO's) easiest option....everything is sewn together. You jsut put on baby. Although more prone to soap build up and takes forever to dry.While these aren't a favorite for a lot of moms....if you choose this route the best ones to buy are sposoeasy and bumgenius organic.
You need to use diaper safe detergents to make sure that your diapers aren't hurt by the harsh chemicals. You want to make sure they are free from enzymes/brighteners/softeners. You can find good detergents to use at http://www.baby-gaga.com/outbound.php?pm_id=1521362&url=http%3A%2F%2Fwww.diaperjungle.com%2Fdetergent-chart.html I use country save. I have used arm and hammer essentials...just required more rinsing so I didn't get buildup.
and this is a GREAT site for newbies I learned a lot. You can click on the options on the side. It lists pro/cons of each type and you can see pictures of the diapers and prices. http://www.baby-gaga.com/outbound.php?pm_id=1521362&url=http%3A%2F%2Fwww.nickisdiapers.com%2F
Please feel free to ask ANY questions. We all started out somewhere and we are here to help!! The transition to cloth can be scary but once you are in you will wonder why you even hesitated! :D :D
Feb 25th '09
I'm Carrie.
I've been using Cloth Diapers for a little over two months now... Since my son was about 1
*Mellow*
3 kids; York, Pennsylvania
17689 posts
Feb 25th '09
My name is Sarah & I have been doing cloth diapers since my son was about 5 months ( May of 2008 ). I have a chunker so I can try to help if you've got a big baby to diaper!
Here is a site with a lot of information on cloth diaper basics with explanation of the types of diapers out there for you to choose from! .
#1 - Fuzzi Bunz are a pocket diaper. I love the fit of these diapers, they're trim, and I've never had a leak! You can purchase this in either sizes or a one size (very new to the market). Riley has fit medium from 20-40 pounds and still growing!!!!
#2 -Bum Genius 3.0 are a one size pocket diaper. They are a great fitting diaper, fairly trim, and I only had leaks when they got too small for my son. They are one size, but no two babies are alike and my son was 31 pounds at 16 months and they were too snug. Negatives - the velcro gets pilly & dingy looking.
#3 - Swaddlebees have different styles...I use the all-in-one with a pocket to add extra absorbency if I want to, and I use their regular pockets also. They are a trim diaper through the crotch area and is a wonderful fit on my chunky guy!
#4 - Goodmama is a fitted diaper that requires a cover as it is not waterproof. These are not a trim fitting diaper but are very lush materials and very nicely made with adorable prints....and very costly. They are one size -- but do not fit larger babies, like my son.
#5 - Piddle Poddle is a brand from Hyenacart. I have a bamboo prefold and a toddler size fitted and LOVE them both.
#6 - Haute Pocket is a one size pocket diaper. This is a nicely made diaper, somewhat trim, but my chunky son also grew out of this one at approximately 1 year old.
#7 -Bumwear is a one sized pocket diaper. They have very cute prints, they're good quality, and a semi-trim fitting diaper. However, my son also grew out of this one before a year old!
#8 - Green Sprout are fitted diapers that require a cover. I only used my fitteds from here for a few times and didn't like them because the material was too "scratchy" against his skin.
#9 - Bumkins are an all in one diaper (they also sell covers). These diapers come in cute prints and are trim as far as bulging. However, they cover a lot of side to side on the legs/hips...kind of like granny panties. They look very large when you get them, but they shrink massively. They don't hold much pee & they stain easily with poo. Not a favorite other than the prints options.
#10 - Drybees Fleece Nighttime is a pocket diaper that does not require a cover, because the fleece is a waterproof layer. I didn't use these very long either -- partially because my son leaked with them and they made him have a HUGE butt.
#11 - prefolds- my son is 31 pounds and I use toddler size (XL) prefolds with a snappi to hold them closed. I have found the jelly roll fold works best on my guy and then I cover with either a Thirsties or Bummis or Blueberry Coverall cover. They are all great covers....but the Blueberry's are the best ever. Trust me.
#12 -- I make my own fitteds now and if you know how to use a sewing machine it's super easy and can bean even cheaper way to cloth diaper! Lots of free online patterns too!
#13 -- I use baby waschloths or scraps as baby wipes. I keep them stacked on my changing table along with a large spray bottle of water. I use these soapbits in my water for a light cleansing scent and just spray each rag as needed per change! I have made many repeat orders of the soapbits and won't use anything else.

#14 -- Kawaii - these are a very inexpensive but GREAT QUALITY pocket diaper (she calls them AIO, but they're pockets). She is in Canada, but free shipping if you order 10 or more diapers. Use her contact me e-mail address to e-mail her with custom choice orders!!

#15 -- Mutts -- these are an awesome boutique fitted diaper with super cute prints. I have nothing to say but great diaper!! (monkey print below)
Overall my favorite is the fitted diapers and Fuzzi Bunz. The least amount of leaks for me!!
I have two different pail liners that I use in a regular 13 gallon trash bag with a flip lid to put my diapers in. I have a Whamies & a Planet Wise and both work fine....but the Whamies laminate is breaking down after many washes.
I swish my poo diapers in the toilet, but you can either purchase a diaper sprayer like THIS or you can make your own as shown HERE.
I wash my diapers with All Free & Clear. HERE is a list of recommended detergents (and yes mine is only "average").
HERE is a list of cloth diaper safe diaper creams. I use Penaten (when he rarely needs it) and have no problems with buildup or staining. I cut up pieces of fleece to lay in the diaper when I use creams and wash the fleece separately so the cream doesn't get on the diaper and cause buildup and leaks.
DiaperSwappers is a great site to find used diapers for sale. Free to join.
I have purchased from NickisDiapers & ClothDiaperOutlet and both have fast shipping.....but the best is Moms Milk Boutique with FREE SHIPPING. You can also find fairly inexpensive diapers made by mamas like you & me at Etsy. Just search for cloth diapers. HyenaCart is also a great place to find lots of work-at-home mom shops that sell a lot of unique diapers!
Any questions I'd be glad to help!!!!! :) :) :)
Here are some pictures of my diapers!!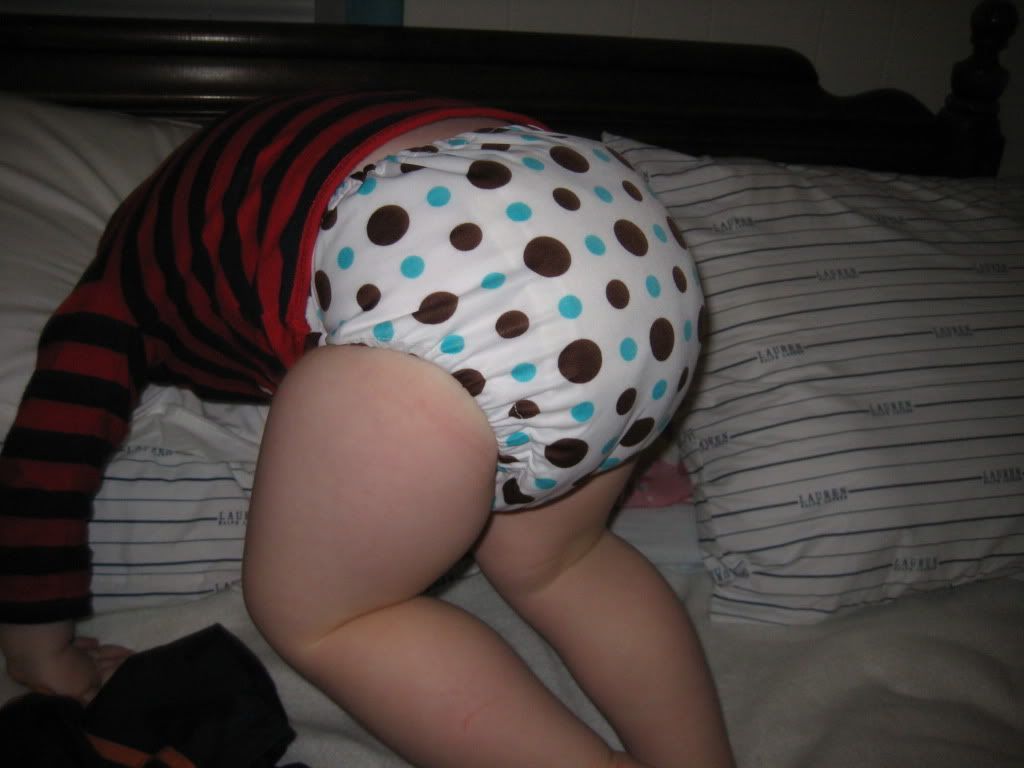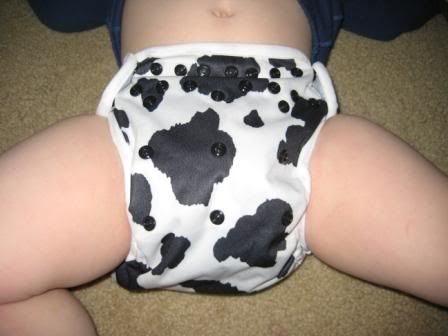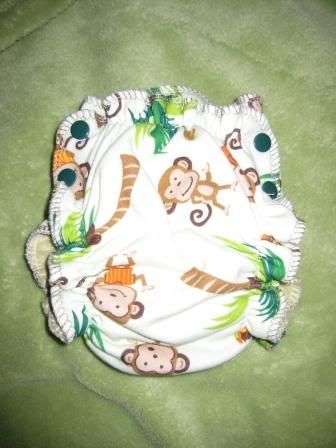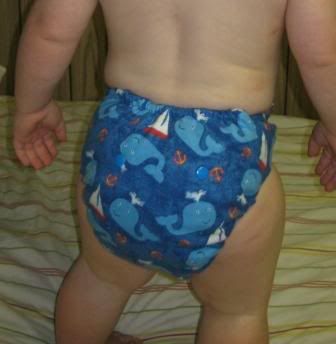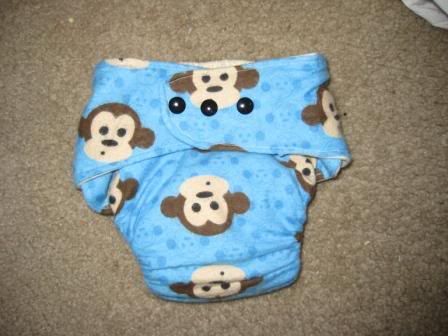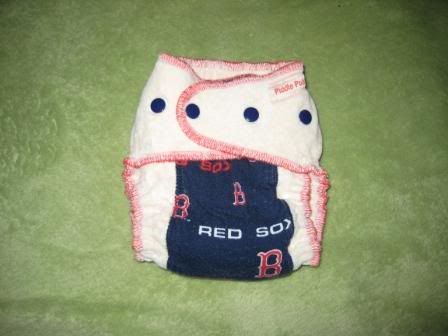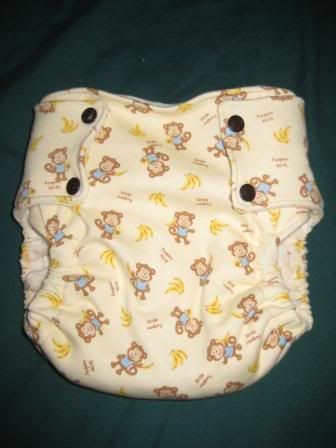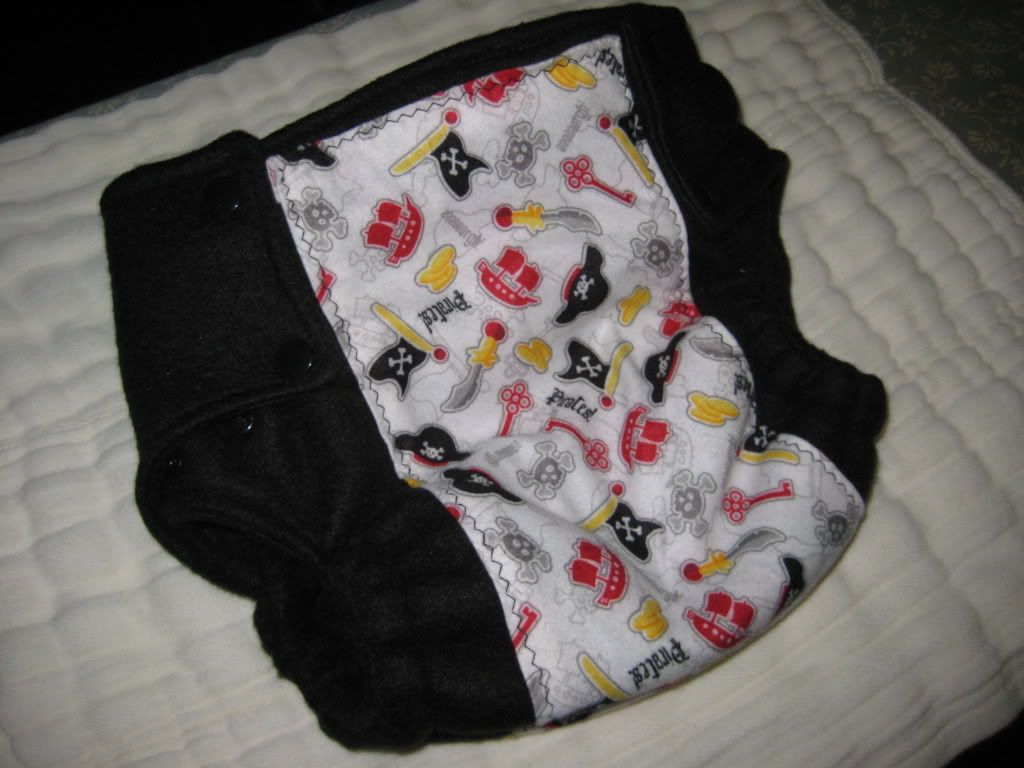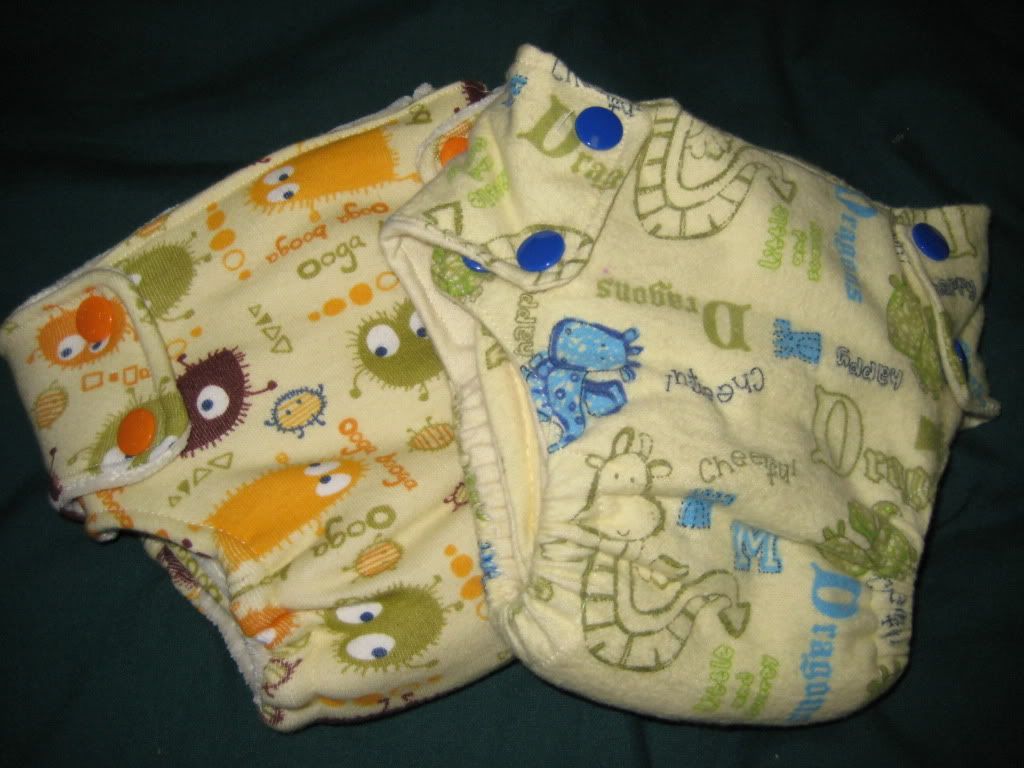 UPDATED 12/9/09
My current favorite is size Medium & Large (he's in both) Fuzzi Bunz.
I also have a few of my homemade fitteds, flats and prefolds and my all time favorite cover is the BLUEBERRY COVERALL!!!!!!!!

UPDATED 5/21/10
Newest diaper that I love is Kawaii diapers!! They are so inexpensive, but not "cheap" diapers!!! Cute prints too! Check out my link above!
rtf
1 child; Cashmere, Washington
6202 posts
Feb 25th '09
My name is Kristi. I have been CDing for 2 months now. I started with bumgenius 3.0 pockets. They are unbeatable for leak protection, fit and trimness.
About 1 month ago I started using some prefolds with bummis and thirsties covers to extend the life of my pockets. I cut out contour shape fleece liners to use with my PF's so that my boy still gets the "stay dry" effect like pockets have. It helps cut down on rash and yeast when using PF's in my experience.
I do not pin or snappi my PF's. I use the jelly roll fold and bring the back corner to meet the front corner on each side then velcro shut the cover. This seems to be a pretty bulletproof method for containing EBF poop. I just ordered my first snappis, so I'll update this after I try those. Pins are a pain for me and I feel dangerous trying to put them on my baby who constantly slams his legs around and grabs his crotch during diaper changing.
EDIT: I now use Snappis and can't live without them! I can keep poop in the prefold and off the cover when it's snappid.
I also have a few fuzzibunz, but I prefer bumgenius. I do like how there is no velcro to be worn out with fuzzibunz though. If bumgenius starts making snap OS pockets, that would be the perfect diaper.
I have bumgenius and thirsties all in ones, and I don't like the thirsties. They always seem to leak around the legs. The bumgenius are good, but they don't last as long in between changings as a pocket.
For nighttime, I stuff a bumgenius with a one size insert wrapped with a "bigger weeds" hemp insert. If he goes to bed earlier than usual, I also throw in a newborn doubler. I had some issues with the tag on the BG wicking through to cotton pj's before I had the hemp inserts. Now I put him in a fleece sleeper, and if the tag does happen to get moisture in it, it won't transfer to his pajamas and sheets. It makes his skin a little wet when he wakes up, but I haven't seen any rash or other adverse effect from this.
I have started using fitteds as well, and I really like them. I'm not sure why, maybe because they are cute? I have some goodmamas, mutts, made by megans, and 1 that I made myself. They are all very absorbant, and a good choice with a cover when going on long outings.
I have started noticing that the fold over elastic on all my covers is causing little spots of eczema around the top of my son's thighs where it rubs. I am currently searching for covers without FOE leg casings.
It's true what they say about the sun getting stains out, it's awesome!
For washing I use Tide, which is generally a big no-no, but so far it's working great for us. Occasionally I throw in some oxy-clean. I do a cold rinse, hot wash on regular cycle, and usually follow it with 3-4 rinses. I dry my inserts and prefolds and cloth wipes in the dryer, but I always line dry (on wire hangers on the mantel over our woodstove) my AIO's, pockets and covers.
EDIT: I now use Country save, and I have cut my amount of rinsing in half! I love it, Tide was just too sudsy.
I use a stainless steel garbage can with a flip lid, and line it with kitchen garbage sacks for now. I haven't bought any wetbags yet. I can usually make one garbage sack last through 2-3 full pails. If it gets a little stinky in there, I sprinkle in some baking soda.
For wipes, I use 7x9 flannel squares serged together. I fold them in half and stack them in a wipe warmer. I dump "wipe juice" on them. I keep my juice in a big pourable rubbermaid, and I usually have to replenish it about once per week. I use a squirt of baby shampoo, a little squirt of baby oil, a shot of aloe and warm water to fill the jug.
I also have a bumgenius diaper sprayer on the toilet, and it helps cut down on staining to spray out the EBF poop into the toilet. It also cuts down on the odor in the pail. I keep a bucket and rubber gloves in the bathroom to deal with this and to carry it to the pail in his room.
Sorry for the book!
Feb 25th '09
I'm Sarah, I started CDing in mid January 2009. So far so good. I love it. I use pocket diapers on my (currently) 2 year old and 4 month old.
Currently, my stash consists of-
22 BG OS 3.0's
3 Swaddlebees Econappis
4 Blueberry OS Deluxe
2 WAHM diapers
4 BG Organics AIO OS
12 RumpaRoozs
12 Flats
12 prefolds
1 BB OS cover
3 thirsties covers
2 squish bum covers-- a mom on here makes them
6 Goodmamas
2 Goodmama Ones
1 blueberry Minky
misc doublers
1 Happy Heiney

I have been cloth diapering since January. I love it. I cloth diapered Grace from when she was 6 days old and Lilah when she was 14 months old. Idon't regret switching over and I have already or almost saved money!

As the other girls, I do a similar dry pail but I also have another pail for my velcro items and I wash my velcro items separately and always hang dry my covers!

When Lilah potty trains I am destashing. No need for me to have all these diapers. I will only keep enough for three days wotrh of diapers for Grace.

I also really sggest you don't go more than three days with out washing them and I have used Charlies and All free and clear and All free and clear small and mighty. I want to try country save.

I also use a lot of fleece longies. I made them myself and I want to learn how to knit some wool ones.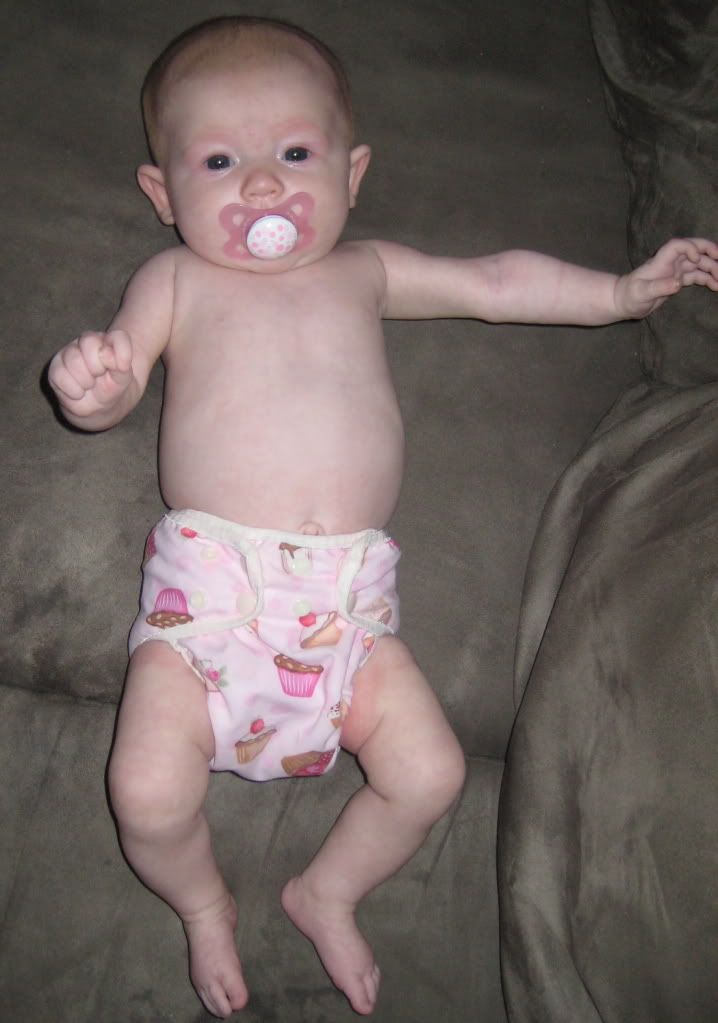 Grace in a squish's bum cover and a prefold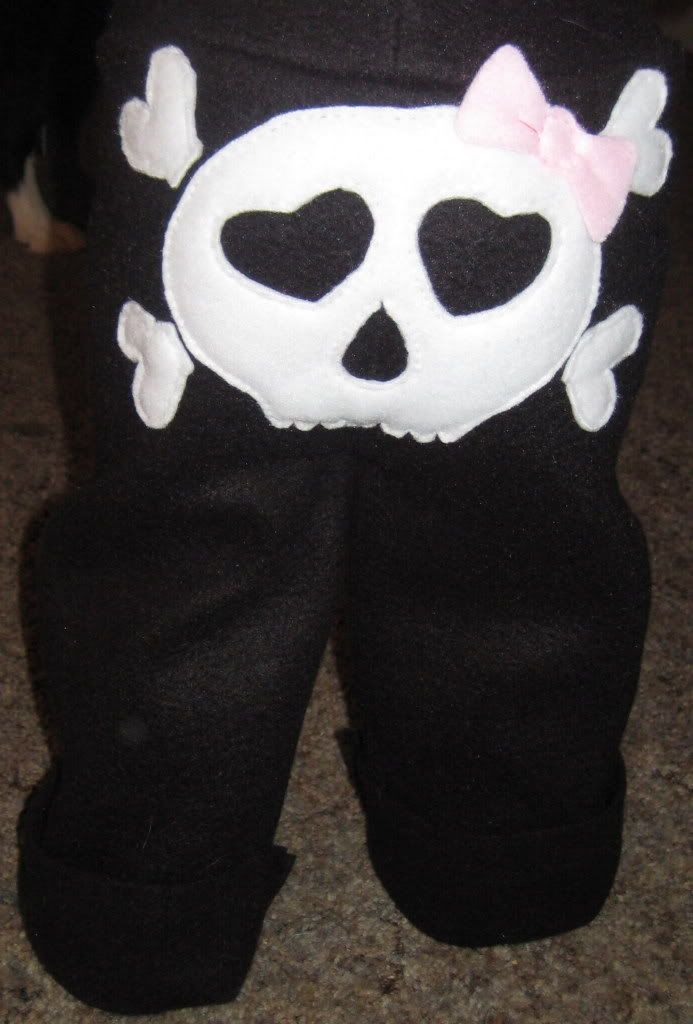 Lilah's fleece longies I made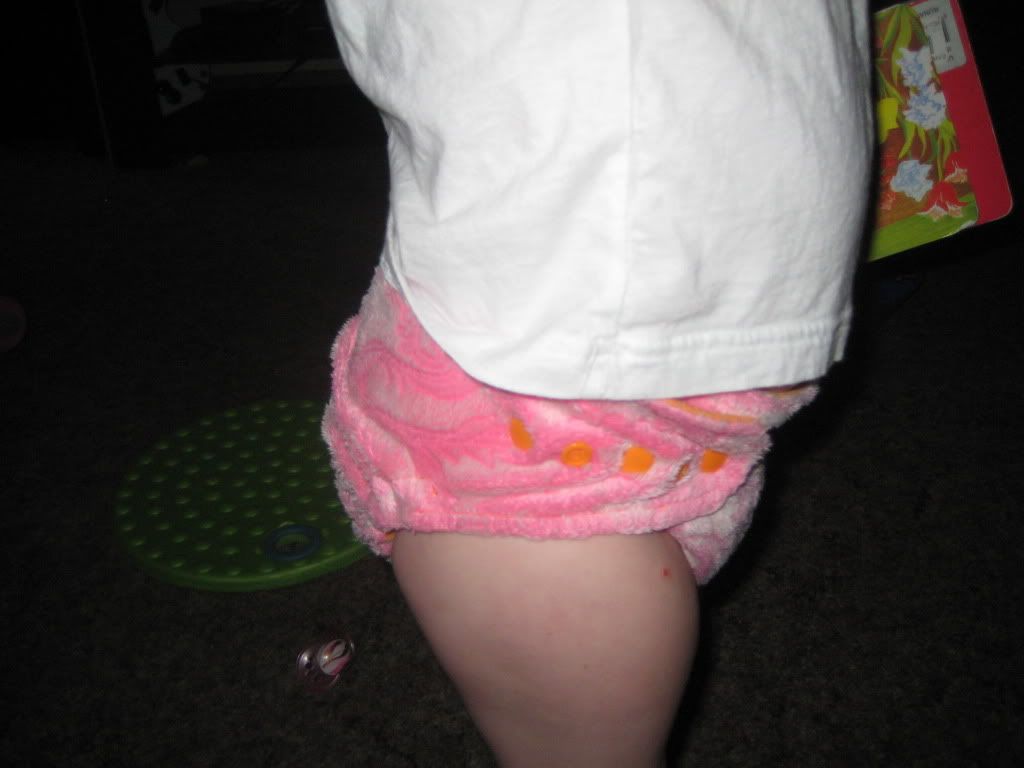 A Good mama One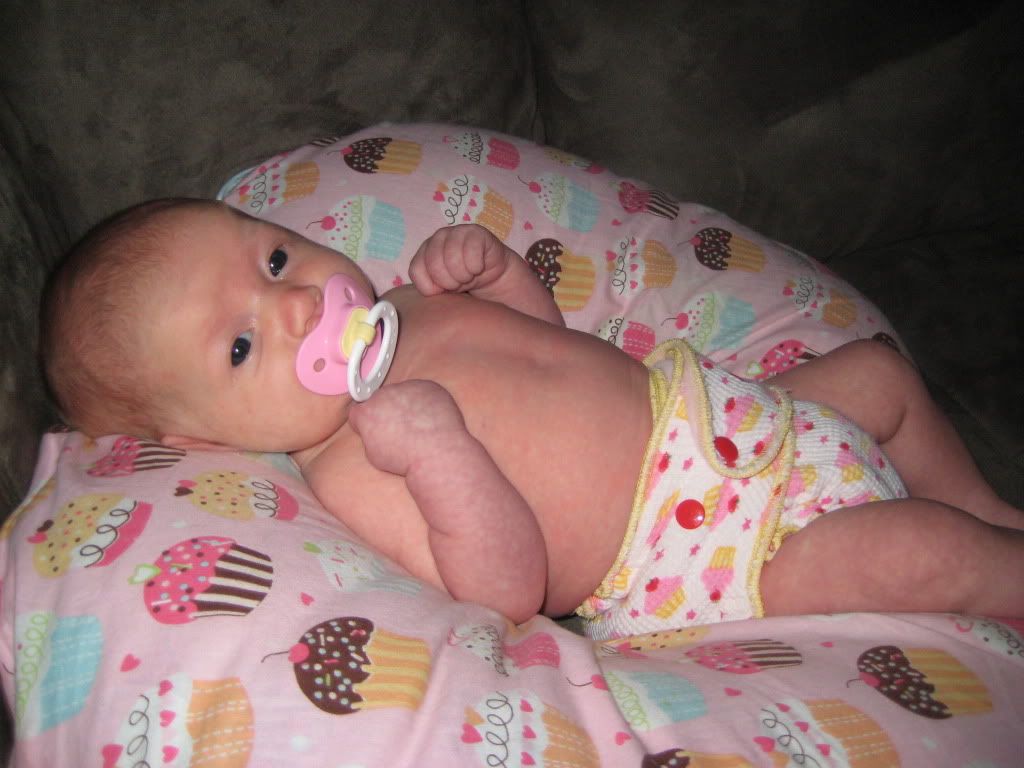 a goodmama fitted on a 6 week old.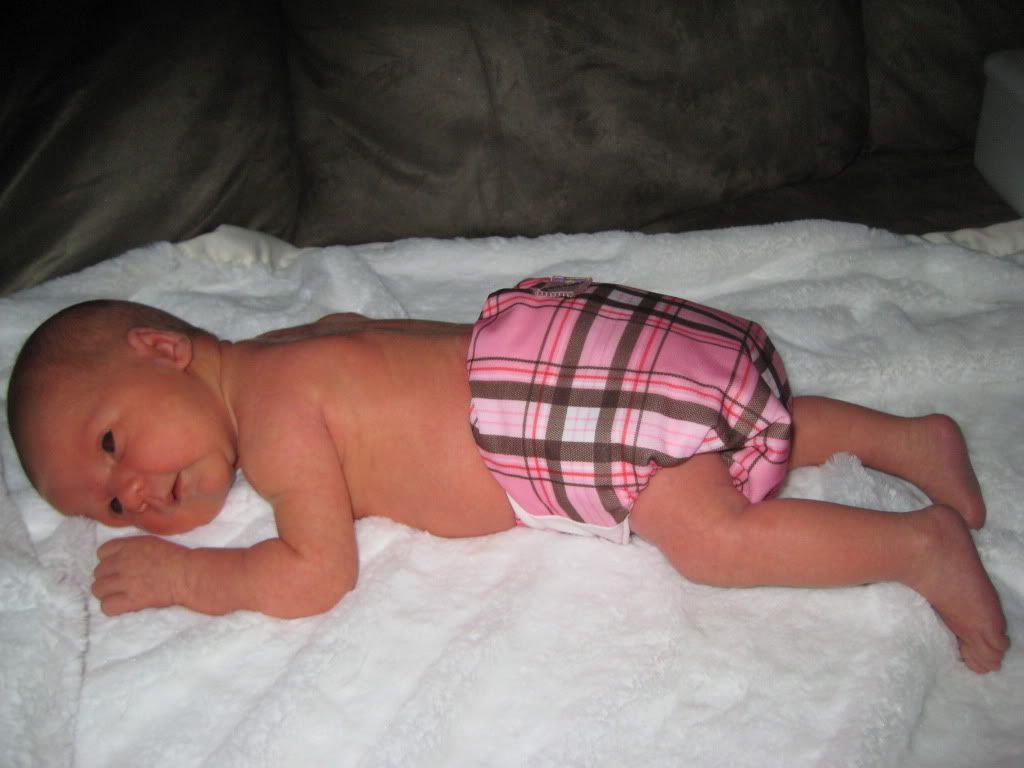 a rump on a 6 day old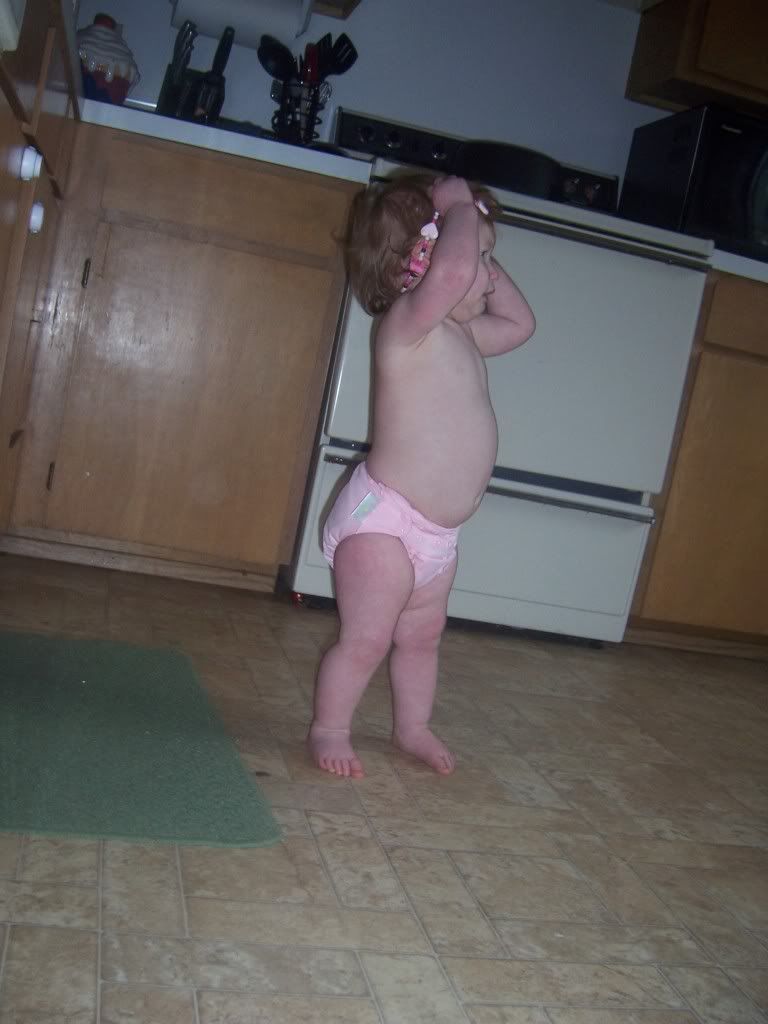 Lilah in a BG organic OS AIO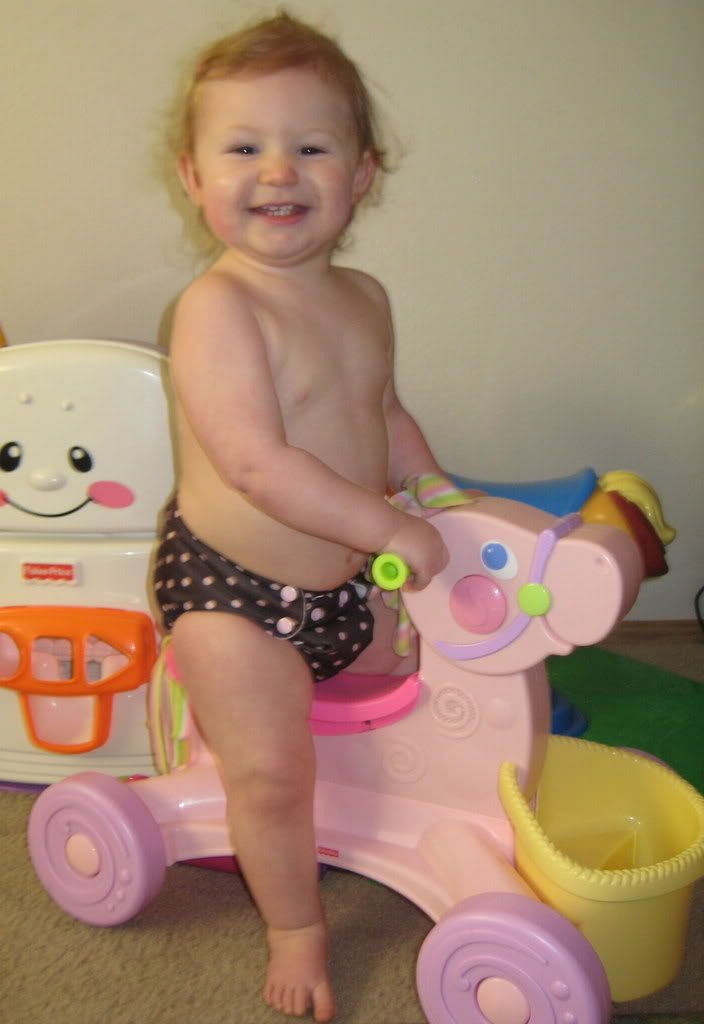 Swaddlebees Econappis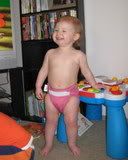 BG 3.0
PhotoMegs
Somwhere, US, United States
3392 posts
Feb 25th '09
Hi, I'm Megan.

I have been cloth diapering since Jan '09. I dont have a full days 'stash' yet but I still do cloth when I can! I'm a full time mommy to my son- and soon to be 2nd child. I am slowly building my stash- due to financial reasons- that is why my stash only consists of 4 diapers:

1 BumGenius 3.0 (one size pocket diaper)
2 BumGenius AIO (All in Ones) Medium/Large
1 BumGenius Fitted
1 Thirsties cover (Medium)

I decided to switch to cloth randomly after seeing a really cute wahm (work at home mom) diaper on craigslist. I found some people on babygaga and also found the Cloth Diapers Rock b***hes! thread and inquired about different types of cloth, sites, styles, brands, etc. I will give you the knowledge that I know. :P

I have obviously used bumgenius only so far for diapers. As they have previously said it is a great brand and it works well.
I thought at first I liked the all in ones best - but they do take longer to dry than a pocket. The pocket is my overnight diaper- I put my son in that with the 2 inserts it comes with (newborn and med/large size) and he stays dry for at least 13 hours! I just tried the fitted for the first time- something about them makes me love them- but I can't honestly say why! I am dying to try some fitteds that have cute prints since BG doesn't make anything with prints!
Everything I have works great so far!

You want to make sure you use a special detergent safe for Cloth Diapers. I cannot find the link but if you google this topic I'm sure you can find a list of suitable detergents, such as: Charlie's Soap, Allen's, Country Save, etc.

Some good cloth sites:
www.thanksmama.com
www.cottonbabies.com
www.clothdiaperoutlet.com
www.nickisdiapers.com

If you see work at home mom dipes you just need to be careful- it will be harder to know if they will leak or not. Try a tester if you can- or just get one to try first before buying bulk.

I believe cloth is at least worth trying! In the end if you dont like them you can always sell them here on Gaga or diaperswappers.com.
Feb 25th '09
Hi, I'm Megan anhave been cloth diapering since the Summer of 2008.
I started with g-diapers when my first was 3 months. They were more costly than disposables AND full cloth, so I switched to all cloth.
Our stash has evolved a lot over the last couple years. I started with AIO and pockets. My preferred diaper was an AIO. But, those were hard to keep really clean, so I got more pockets. I decided I wanted mostly one-size, so my main stash consisted of BG 3.0. I added some prefolds and fitteds to try out. I eventually got rid of most of them because I just liked pockets the best. Then I tried flat and covers, which I love and currently still use with regularity. My daughter started holding her urine longer and longer and with the inner layer in pockets and AIO she cannot use them. They all leak. No matter how much stripping or how new they are, she just can't use them. So, in order to get more diapers she CAN use, I had to sell most of them off.
Currently we are using fitteds (a few GoodMama, but mostly handmade by myself), flats and covers.
I'm in the process of making our second daughter's stash. My goal is to have a total of 24 fitteds per size, 24 flats, a handful of pockets that we've kept, and enough covers.
I currently have:
6 GM fitteds
13 Medium self-made fitteds
5 xs thirsties fab fitteds
1 small Squishy Butt fitted
1 medium Squishy Butt fitted (on the way)
1 large Squishy Butt fitted (on the way)
3 newborn fitteds made by myself
8 Blueberry coveralls
1 Medium thirsties cover I converted to "os" because it was too big
1 large thirsties cover we can't use because it's too big
4 covers made by myself
2 mommy's touch os covers
1 size 2 thirsties duo
5 size 1 thirsties duo
1 squishy butt small cover
2 kozydesigns wool longies
3 wahm made wool longies
2 squishy butt wool longies (on the way)
24 flats
12 chinese prefolds
1 babykicks hemp prefold
2 bumgenius organic aio os
1 bum genius size small aio
1 bumgenius 3.0
3 pockets made by myself
1 rocky mountain OS pocket
1 etsy pocket (can't remember the brand name)
I have a way to go to have enough for both of my girls.

I have experience with the following types and brands of diapers:
AIO:
DryBees AIO Hybrid--I got the stinks really badly and often with these. They are VERY difficult to get and keep clean. They're super quick for changes, but horrendous to wash. I sold them (after stripping them) because my daughter no longer is able to use AIO or pocket because she pees too much too fast to be absorbed quickly enough
Pocket:
DryBees pockets--I don't love these, nor do I hate them. They just...are. I have also sold these
Happy Heiny's One Size--These have a very soft inner layer against the skin that I like, but they have a very thin elastic that hurt my daughter, so I sold them.
Wahmies One Size--The ones with hooks are a bear to change on a mobile baby/toddler. I like the snap version. They get VERY small and I think would be good on newborns. However, I sold them since my daughter can't use pockets and I needed money for more diapers.
Bum Genius 3.0 One Size pocket-- I sold all but one of these and kind of regret it. I sold them because of our pocket issue. I needed the money to get diapers we CAN use. I love these diapers and will probably eventually add more to our stash. These are by far my favorite pocket
self-made pockets-- I love my pockets that I made :D
a pocket from etsy (can't remember the brand name)-- This was a good diaper. Don't love or hate it. I still have it. The inserts she sold with weren't absorbent so I had to use others
Rocky Mountain OS pockets--I like that the rise is changed in the legs, but I really don't like this diaper. I wish I did.
Rumparooz OS pockets--I like these. They have great prints. I don't love the way they fit my daughter and have sold them due to our pocket issue.
DryBees fleece overnight pockets--GREAT for overnight. I kind of wish I'd kept them and not sold them.
Fitteds:
Bum Genius fitteds--very absorbent and soft.
Thirsties Fab Fitteds--my favorite big brand fitted :D
BabyKicks hemp fitteds--very absorbent, I wish I hadn't sold it when I decided to go to all pockets, since now we can't use them at all.
self made fitteds--These are my favorite fitteds that I have
Happy Hempy's pocket fitted--I had the same issue with this as the happy heiny pockets. Good diaper, but the elastic hurt my daughter
Good Mama--These have beautiful prints, but are so bulky I'd never buy them new. I only use them coverless at home.
Covers:
Thirsties sized covers--Very well made, run big, though.
Thirsties Duo wrap--I love these. prefer them over the sized because they last longer The fit is GREAT!
BlueBerry OS Coveralls--my favorite cover their prints are awesome!
Mommy's Touch OS covers--I hate these. They have two pieces of pul and are NOT wipeable. My daughter's urine is so strong they only last one use for us. They are not really OS. They have two sizes and my two year old (who is 25 pounds) is on the SMALL setting.
self made covers--I'm still working on a pattern, but I have a few that work well. too bad they're fourth of july haha
kozydesigns wool longies--LOVE LOVE LOVE i can't say enough about wool and these are super cute
wahm wool longies--i have some from a few different moms. Some were made as a gift to me. Some were purchased on Diaperswappers. I love them
Flats:
little lions brand--I prefer this brand
green mountain diapers--good diapers.
Flats are a workhorse diaper, so are prefolds. they get better and better the more you wash them. You can really abuse these diapers. I prefer flats because they are more versatile.
Prefolds:
baby kicks hemp--very absorbent and great for night but PRICEY
chinese and indian both from a brand I don't remember
Gerber--these are good under swim diapers, as burp rags, as cleaning cloths, for messy art projects to cover the bum, not much else.
Detergents:
country save-works well
soap nuts-much cheaper and my favorite detergent thus far
"hybrid":
Grobaby-I hate the mesh inside these. It retains the smell of my daughter's urine. I only used them for about two months and then sold them. They just didn't work the way I wanted them to.
Diapers I have on the way to me and can't review at the moment:
Bum Genius AIO (organic OS and a regular sized), Squishy Butt fitteds, Squishy
Butt longies
My Favorites:
Bum Genius
Thirsties
Diapers I have made
Little Lions Flats
Blueberry
My LEAST Favorites:
Rocky Mountain OS pockets
Mommy's Touch Covers