N & A
1 child; New Mexico
22234 posts
Feb 10th '09
The Doctor
2 kids; Boulder, CO, United States
60775 posts
Feb 10th '09
Feb 10th '09
this is basically what she is talking about...
Other Methods of Gender Prediction:

Another unscientific but fun gender prediction test is the needle or wedding ring test. In this test, a woman dangles a needle or wedding ring over her belly. If the needle or wedding ring swings in a strong circular motion, she is expecting a girl. If it moves in a to-and-fro motion like a pendulum, she is expecting a boy. An alternate version of this baby gender prediction method is to dangle the needle or wedding ring over the expectant mom's wrist instead of belly.
Many people also say that an easy way to tell if a woman is having a boy or girl is to determine if she is more or less attractive than before she is pregnant. One version is that if she is less attractive she is having a boy. This is because of the hormonal mix between the two genders. However, an opposite translation is that if a woman is less attractive, she is expecting a girl because the daughter is s*****g out her mom
The Doctor
2 kids; Boulder, CO, United States
60775 posts
Feb 10th '09
But that one doesn't predict HOW many kids you're having.
I think she may be talking about something else. Or it's just a crock of poo. But, still. haha
Feb 10th '09
Ah, is this the same thing as the ring on a strand of hair test... dangle over belly, and the ring moves in a circular motion if a girl/ pendulum motion if a boy?
Feb 10th '09
Quoting Happy MOM-TO-BE2009:
Feb 10th '09
Quoting Kat Ayden [JAS 08]:
Peera
1 child; Washington
118 posts
Feb 10th '09
I didn't do it to myself, but my mom had it done to her when she was pregnant with me. It said I was a boy. Given this watermelon stuck to my tummy, I'd say it was very wrong.
Soya!
1 child; Texas
6759 posts
Feb 10th '09
I did the ring & string test, it was right about me having a boy. You have to remember it's just really for fun than anything.
Feb 10th '09
The first time I did it, it said I wasn't going to have kids.. I am on #2. The second time it said 1 boy. I have one girl and I am prego with another girl! This needle test didn't work for me at all!
Feb 10th '09
I've never heard of the needle test. I did the thread w. a ring from my finger, and it said I was having a girl.. Now just have to wait to find out.. which is killing me!! :x Anyone else know of any tests to find out the gender?!
Feb 10th '09
i did it, it was wrong, every gender predictor i did was wrong..they all said girl

proof: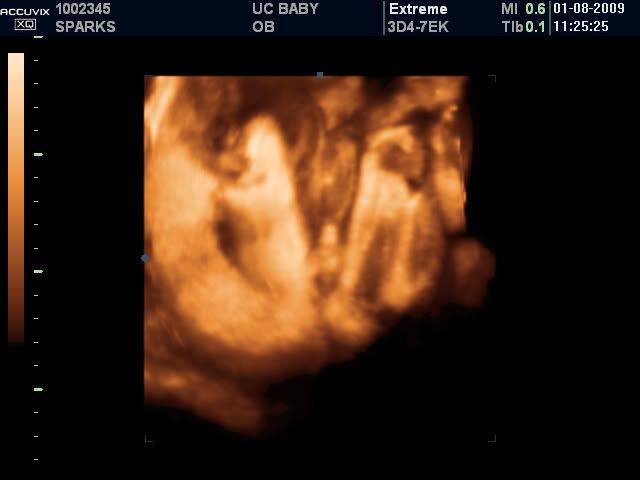 100% weiner.
Feb 10th '09
I guess only time will tell.
Might as well start practicing my patience now! lol
Feb 13th '09
Well,
A: I was told you werent suppose to do it to yourself, but I did and still got the same answer.
B: Yeah, I would agree, it is just a way to have a little fun while you wait for your doctor to tell you.
C: How many Children??????
You put the needle on some string, you bring it up and down three times then put it in the center of your hand. The direction will determine the sex. You continue to do this process until the needle no longer moves, it just stops. That is how it is suppose to determine how many children.

Any ways, it really is just for fun.