Opinions: Deformed Gestational Sac?
100% b***h
Hawaii
672 posts
Jan 27th '09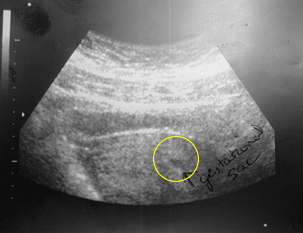 This is a deformed gestational sac isn't it? I thought it was supposed to be pretty much perfectly round? I might be wrong but this is for a friend so input is appreciated. The image is what the doc says is 4 weeks and a half gestational sac but my friend is almost cirtainly closer to 5 weeks 5 days by her calculations of conception they are saying she conceived the 9th of this month and the last time she had intercourse was the 2nd of this month. I think her baby is not forming like it should be and she was apparently on birth control when she conceived and she also has numerous reproductive health issues and suffered a misscarriage before. :(
Jan 27th '09
Honestly, she's far too early to make any kind of determination like that.
Her being not as far along as she things would just mean she ovulated at a different time then she thought she did.
Jan 27th '09
Yeah imo from personal experience that looks nothing like my gestational sac at that age. I will see if I can find a picture.


ETA this was 6w2d from my LMP. I was on the pill too when I conceived. You can see the yolk sac and the begining of the fetal pole.
Jan 27th '09
mine wasnt round...it actually looked just like that!!
good luck and congrats
Jan 27th '09
heres a pic of mine...at 6 weeks though i couldnt find my U/S from 5 weeks

Jan 27th '09
I had a deformed gestational sac and I mis-carrying because of it (or so I was told in the ER) Not to freak you out or anything, just telling you my personal experience. I was about 5 weeks too. I didn't know there was anything wrong until I started bleeding progressively and went to the ER where they did the ultrasound.
Jan 27th '09
Quoting Jessica::Kylie's mommy:
Jan 27th '09
It could just be the angle of the wand that is making it look like that. A slight move to one side or the other could have produced a different picture. Did her OB say something was wrong?
Jan 27th '09
Quoting Ash and Mark (+1):
Jan 27th '09
Hey OP...i found a ultrasound from my previous pregnancy...i was 3 weeks and my sac looked exactly like hers! (i did miscarry but it wasnt because of my sac it was because of my blood deficency)
Jan 27th '09
Quoting Ash and Mark (+1):
Jan 27th '09
Quoting Ash and Mark (+1):