Dec 2nd '08
I'm only starting out with my pregnancy but would love to see pictures of plus size mothers to be, considering I'll be one.
Dec 2nd '08
Alot of people wouldnt consider me plus size, but trust me I am.
Dec 2nd '08
Haha your welcome to go check out my prego pics! :D Good luck with your pregnancy! :D
Monica.
2 kids; Owego, New York
32754 posts
Dec 2nd '08
17 weeks
Dec 2nd '08
I am 24 weeks and mines still looks like a big ole ball of flab....until I pull my flabby , fatness up and then you can see some roundness. I havent had the tata's to take pictures of it yet. Scary.
Dec 2nd '08
Quoting Cadens Incubator {HFC}:
Dec 2nd '08
Heres a couple


25 wks



34 wks


36 wks
Dec 2nd '08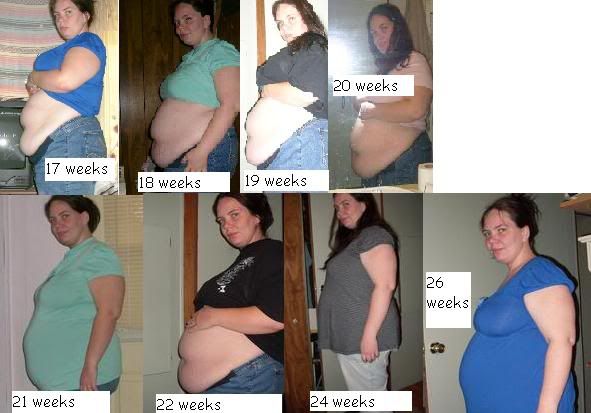 and this was thanksgiving-26.5 weeks

Dec 2nd '08
well im jen and i am plus siz...i wear a size 24 sooo yeah here's mine through out my pregnancy


Dec 2nd '08
You can look at mine pictures at 20wks I will take more next week at 24wks,
Dec 2nd '08
DaMN!!! We are some sexii big mommas!! :)
Dec 2nd '08
Quoting WiFeY- MoMMy- 35w PReGGo:
Dec 2nd '08

This is at 5 month's ,