Nov 23rd '08
uh, i can't wait for the day when my little man starts to walk...Ethan is physically "slower" but very advanced mentally, his in-home teacher says he's only about 2-3 months behind a "normal" child chart...(lol)
Nov 23rd '08
Quoting Momma Cupcake [GDS]:
Nov 23rd '08
Quoting Suzie S.....6 days left!:
Nov 23rd '08
lol you guy crack me up.... I'm soooo lucky my 9yr old is still deathly afraid of us! LMAO j/k she is very respectful and such a great kid..but yes, she has her moments, as I'm sure Ethan will too.

Santa got Ethan the Fisher-Price "Rainforrest" jumper for x-mas last year and it has helped him SO much! He loves to jump and thinks he's the silliest little thing when he does. Ethan's PT didn't want us to get a walker, but it was too cute to pass up, and I'm so glad we got it because he follows me all around the house. He just loves it because it lets him explore w/out being underfoot all the time. Here is the one we got him.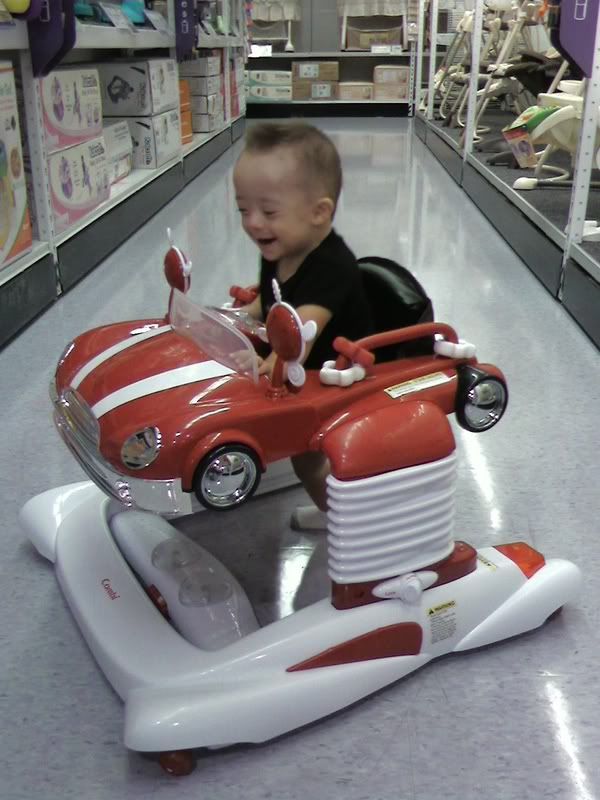 Nov 24th '08
Our in home teacher brought in a PT consult once after we had gotten Kelly the jumper and looked like she was about to have a fit that we had gotten it for Kelly. She was concerned about her hip development. But I was able to calm her down when I explained that she was only in it for a max of 15 mins at a time and that I had sinched the crotch area so her legs would be more straight down and not bowed.

And when she saw the results (MUCH stronger legs and was using our hands to pull to stand) she actually apologized for being so critical. I guess I complained enough about her reaction to our teacher and she said something to the PT. LoL
Nov 24th '08
Our PT lectured us about jumpers and walkers forever. I wanted to get him a walker for Christmas, but now Ryan is saying that we shouldn't because the PT says they're awful. I think I might sneak and get one behind his back. haha He won't be mad when he sees how much Lincoln likes it.
Nov 24th '08
honestly, I'm not sure why they say they are so bad?
user banned
66 kids; Texas
80435 posts
Nov 26th '08
Your daughter is very beautiful. I honestly can not tell that she has Down Syndrome. I have met alot of people with D.S. and most of them don't have the common characteristics associated with D.S.
Nov 27th '08
I just wanted to say that you ladies are an inspiration.
Your children are beautiful, completely adorable and cute and i give you so much respect... My son does not have DS but he is special needs and i know what a hard journey it is, tests, check ups, therapy, ect. Special needs children require so much more attnetion love and support and it makes me feel genuinly inspired knowing that there are some great Mama's like you guys out there!
Nov 27th '08
Quoting Suzie S..Tomorrow I meet: