♥
D♥'sK
17 kids; Keokuk, Iowa
329 posts
Dec 27th '12
.....................................................
wombie
4 kids; Zimbabwe
73281 posts
Dec 27th '12
this is the only one I have a picture of, lol.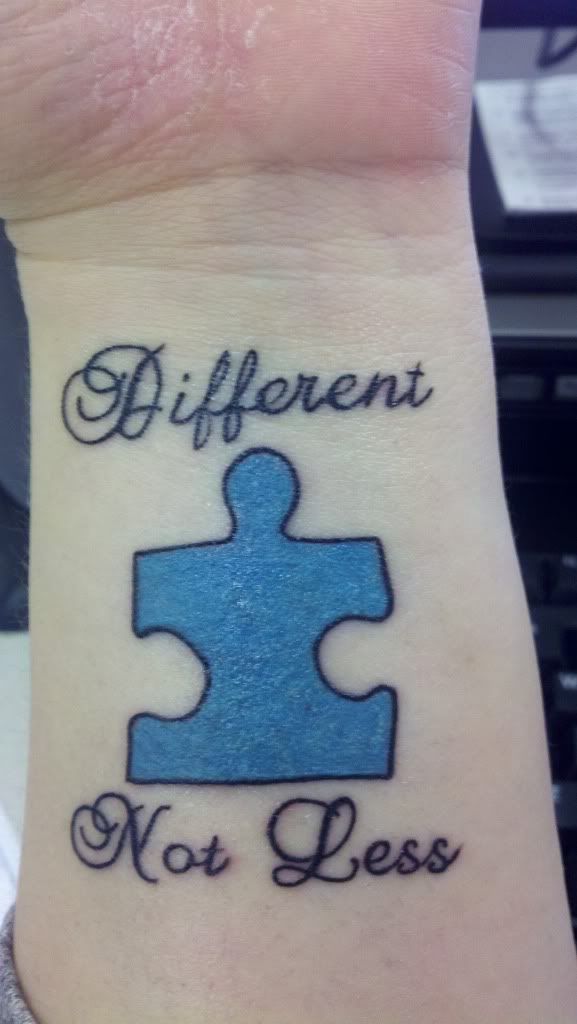 I also have a dragon on my other wrist/forearm, a lotus flower on my left shoulder and my name in japanese with a butterfly down my spine
Dec 27th '12
this is on my foot. says "poetic artistry"
Im a spoken word artist and painter and I always say that my poetry is a lyrical art and my art a visual poetry..therefore poetic artistry lol

I have a kanji on the back of my neck for spirited too. OLD pic

Dec 27th '12

This is my only tattoo so far, but I have at least 3 more that I'm wanting :)
The dates are the days my husband left and came home from Afghanistan. And the pain wasn't bad at all. I kept wanting to scratch my arm while i was getting it though lol.
Raωkeℓ
1 child; Costa Rica
8257 posts
Dec 27th '12

This is my left side. "We go together like PB&J". And then above that is an atomic bomb that forms a heart.


Then, my left side has:


"Prepare my hands for war"
I got it right before my deployment.
I also have both my thighs done, and my right wrist has a pink Eagle, Globe and Anchor.
Mutha.
TTC since Jan 1995;
3830 posts
Dec 27th '12
Dec 27th '12
toy soldier it has a bottom but my pants are covering it, i dont really have a reason for getting it i guess i just always wanted one and my friend and I decided we would get one when we were older. I guess i got it when i was in the Air Force so it has some symbolization/memories and it's in my favorite color which is green
doors33
1 child; Tonawanda, New York
478 posts
Dec 27th '12
I'm not sure if these will show up because they're on deviantArt, but here are two of mine. You can always copy and paste if you want to see them. :p
http://doorsxofxperception.deviantart.com/gallery/37160105#/d4ortkw
I got this for a friend who committed suicide on my 18th birthday. His nickname was Turtle and his favorite food was bacon. It says "Don't Forget" under it because it's actually a reference to a show we used to watch together. On the inside of the main Character's pocket watch, he carved "Don't Forget" and then had the date of the day he and his brother burnt their house down. (Fullmetal Alchemist, and Fullmetal Alchemist Brotherhood.) His mother said he had gotten me a full working Fullmetal Alchemist pocket watch just like that for my birthday... but never got to give it to me. She thought the people who cleaned after his death may have stole it or something... =/
The pain wasn't that bad at all.
http://doorsxofxperception.deviantart.com/gallery/37160105#/d4zlnye
And this was my first tattoo! Lennon has always been a big influence to me in the way I live my life and his music always puts a smile on my face... I wanted my first tattoo to really mean something to me and not just look pretty, so that's why I went with this. No matter what, I'll always feel like Lennon has my back, no matter how cheesy that sounds.
I hardly felt ANY pain with this one!
I have one more on my leg dedicated to Rammstein, but I don't have a very good pic of it. :(
user banned
United Kingdom
1629 posts
Dec 27th '12
On my left wrist;


I also have crosses on my chest (you can sort of see them on my profile), I have an ace behind my ear and a Rammstein cross on my ankle.
Wrist is a Shadowrun dragon, something me and my hubby both love. Crosses.. eh it'd take a while to explain, lol. Ace is for my gran, she taught me to play cards. Rammstein cross is my 'dumb teenage band tattoo' :lol:
Dec 27th '12
all of my tattoos hurt to a extent but u always forget the pain and get more lol
my side flower!!! also im 17 weeks pregnant lol!!

me and my SO got our dogs tag he died in july

my sons name

user banned
........., KS, United States
15498 posts
Dec 27th '12
If someone can post the pic im on my phone
http://i1322.photobucket.com/albums/u564/Britney_Laskey/95F85898-AF95-4B03-9089-4DF3BAC0FF22-167-00000005CDCAC6C1_zps561c651d.jpg
I actually got mine this past summer in Las Vegas and it says hope with a heart. I got it for my mom cause she is a survivor of breast cancer. I'm going back in march for my 21st birthday to get the heart colored in pink and to add some breast cancer survivor ribbons around it.
And it's on my back hip on the left side. And the pain was ok, I was super nervous before and it wasn't as bad as I expected. It was more like a scratch I really wanted to itch and the only part that hurt that kind of hurt is when he was going down the letter P. other then that it was super easy!
I would do it again!
can111
1 child; Michigan
1005 posts
Dec 28th '12
My first tattoo is a Macaw parrot in memory of my grandpa, he never had one but he always wanted one and loved them. He had a tattoo of one also. I love my tattoo.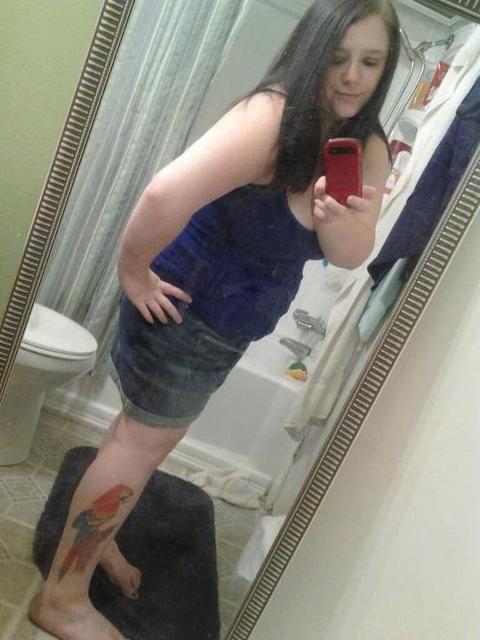 EDIT: The pain wasn't bad except for the tail and the very bottom of the tree. I got it done by the owner of the shop and he had a very light hand, I was pleased.