Nixon Camden Chrono Silver watch(selling)
Adriana'sMombie
1 child; Quakertown, Pennsylvania
2113 posts
Dec 12th '12
My fiance got me this watch a week ago(A women's watch)as a gift, and i have sensitive skin, so, if I wear it, id break out and get rashes, due to the real silver. (he forgot about my skin sensitivity). Its never been worn, still in the box. I tried to refund it, didnt work out. I also tried to sell it around my area, no luck either. So, if anyone is interested in it, please let me know. We have no use for it lol. (: We bought it for $400,and we'll the lowest we could go would be $300. I'lltake anyone's best offer, we just want to get rid of it. I feel stupid trying to sell it on public forums, but, I dont think I have much else to think of. lol.
What is in the watch:
MOVEMENT: Swiss made quartz 6 hand chronograph.
DIAL: Applied indicies with diamond 6 hour marker.
BAND: 20 mm solid stainless steel 3 link bracelet with solid stainless steel double locking clasp.

Our picture: ( we have bad lighting, sorry):
And here's a professional picture of the exact watch: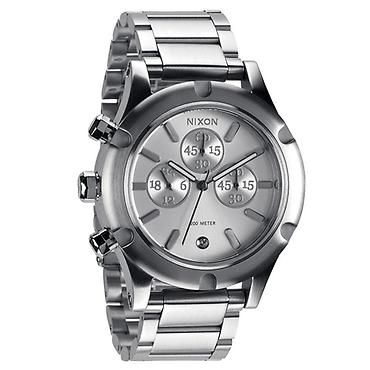 Bosco123
1 child; Oklahoma City, OK, United States
1566 posts
Dec 12th '12
Why didn't refunding it work out?
Dec 12th '12
Quoting Bosco123:" Why didn't refunding it work out?"

He bought it from KarmaLoop, emailed them,asking for a refund,and they said they wouldnt be able to do it, since the purchase was so much and I guess it was real silver and stainless steel.. I honestly have no clue. I'll have to see when he can log into his email again. Just saying what he told me lol. They can refund clothes, but not jewelry? I thought it was stupid! lol.