Nov 17th '12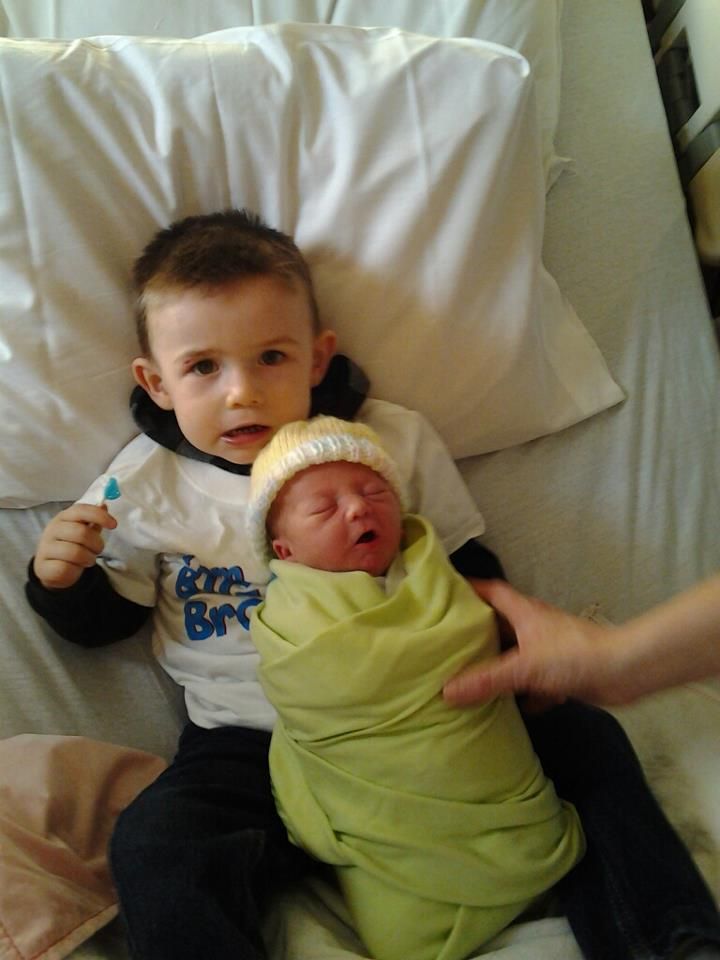 Jacob holding his little brother Caleb!
Caleb Michael was born on Novemeber 15, 2012 at 3:08 pm and he weighed 6 pounds 13 ounces, and was 19 inches long. He was due on Thanksgiving but I went for my 39 week appointment on Weds and was checked to see how far I was dialted and I was 4 cms and 70% effaced and my cervix was still posterior she said. When I left the gyno I felt what felt like my period and I looked and there was my bloody show gross lol. I went to my parents house to pick up my son and clean up down there. I didn't even know it was my bloody show bc I was induced with my first so I had to ask my mom. Once I had my show I started having irregular contractions and cramping. At 4:10 am on Thursday morning I started getting contractions that were about a half hour apart. I woke up at 7 am and they were 3 to 4 minutes apart and really painful. My waterbirth was the last thing on my mind I wanted an epideral badly. I called my gyno who told me to go to the hospital and I got there about 8:30 am. A nurse checked my cervix and thought I was still posterior and only 4 cms so she told my midwife who told me she wanted to send me home. I was pissed and in pain. She told me to walk for an hour and she would check my cervix again. I walked for five minutes and my contractions came back and were 2 to 3 minutes apart. She checked me and I was actually 8 cm dialted and 70/80 %
effaced and she obviously told me to stay. After a few hours of waiting
for an epideral and then receiving one my water broke on its own. I had a great delivery I started pushing at 3:03 pm and had him at 3:08 pm only five minutes of pushing he was out. My mother, future mil, and so were all in the room. They were able to take pictures my entire delivery it was such a beautiful experience!