Oct 20th '12
At my 38 week appointment they did a growth ultrasound, as I had been measuring weeks ahead for months. Baby was actually measuring small, and her abdomen even smaller. My OB knew I wanted to go into labor naturally, and do it all without pain medicine but she was more concerned about baby and thought she may have quit growing. She acknowledged that they could be totally off, but that was all she had to go by and didn't want to take a chance in case. I asked her some questions and decided to trust her and be induced. She had be come in Sunday night, October 14th and get set up.
I had sex with DH two different times and inserted EPO every night and took it orally 3 times a day for those few days after that appointment before being induced. When she checked me that night I was 2 cm dilated rather than the 1 cm I was at for a month. She said we would start the pitocin in the morning. I believe it was 4:30 a.m. or so when they started it, I got a couple of hours of sleep before that but then I was up.
I was handling the contractions pretty well...they got a little intense and I was breathing/humming through them until OB came in and noticed I wasn't using my yoga ball..and told the nurses she told me I could use it. They couldn't take the monitors off due to being induced so I sat on the ball right by the bed...we had a hell of a time keeping the monitors in a good spot and they kept flipping up due to the straps rolling because of my curves :wink: .
The contractions seemed to have slowed down, I would get one here and there and it wasn't all that pleasant but I wasn't having to "get through" them like before in the bed. They kept assuring me I was just more comfortable in that position but I swear they almost stopped. I stood, swayed, paced in that little area trying to move her down, she was still pretty high up. I don't know how many damn times I was checked, the one sweet, pregnant nurse would swirl her fingers in circles at the opening of my vagina ..I guess to get the jelly stuff all over but damnit her nails were scraping me through the gloves! I hated it when she checked me, she could hardly reach my cervix too.
Finally sometime after 12 p.m. OB broke my water since I wasn't really progressing, of course I had to lay down then...less risk of cord prolapse since she wasn't very low. Not too long later the contractions got INTENSE. I tried, I really really tried and did my best and would hum through them, try to make sure I was in control of my body and just get through them. I got to the point where I would just break down crying, I knew that I wasn't progressing because I couldn't stay relaxed AT ALL and with each contraction I wanted to be put out of my misery more and more. I requested IV pain meds, I cannot remember the name of it ..wasn't nubain even though I brought it up. I got high, loopy but the contractions still got worse and worse after giving that damn medicine TONS of time to work..I gave in.
I hated myself, the situation, but I couldn't handle it..I looked over to the machine pumping out the pitocin and it was on 32, they started at 2 that morning. The damn epidural process sucked ass. He was off center and would cause me pain, i'd yell out and he would ask what side it hurt on..and over and over again. Then he took it out, tried again..this time the pain was on the other side of my back..all while trying to get through these horrific contractions. Finally he was done, I got number after like 10 minutes and just a few hours later I was at a 9! I don't think it was 10-15 minutes and I was feeling plenty of pressure, they got me ready and I started feeling pain with the pressure as she came on down. I pushed once, her head came out and my body did the rest and she was born! She arrived at 6:08 p.m. weighing in at 8 lbs 3 oz and measuring 20 inches long! She is perfect, obviously not a small baby and has reddish blonde hair :) .
The longest labor out of the three, and though I failed at getting through it without the pain medication...I feel like I did my best anyways. She is pretty easy so far, I breast fed her in the hospital but the nurses didn't pay attention to her latch and just helped me get her latched and I didn't realize we were doing it wrong. I got blistered and shit so bad that I sat there for a while just dreading the next feeding and it took everything in me not to pull her off as soon as she started. I had to stop, the pain was so intense I didn't know it could hurt that bad to breastfeed. She is on formula currently, i've been hand expressing and pumping only because I am on strong antibiotics (cipro) for some kind of infection that had me very ill the other night. I don't want to feed her while on it, I'm worried I will screw this up and not be able to successfully breast feed once I'm done with the medicine but I'm trying. Here are some pictures, thanks to anyone who actually read or attempted to read this bad boy!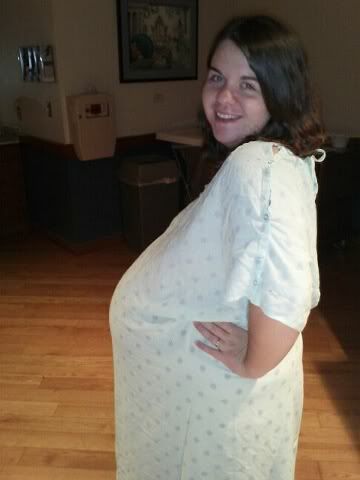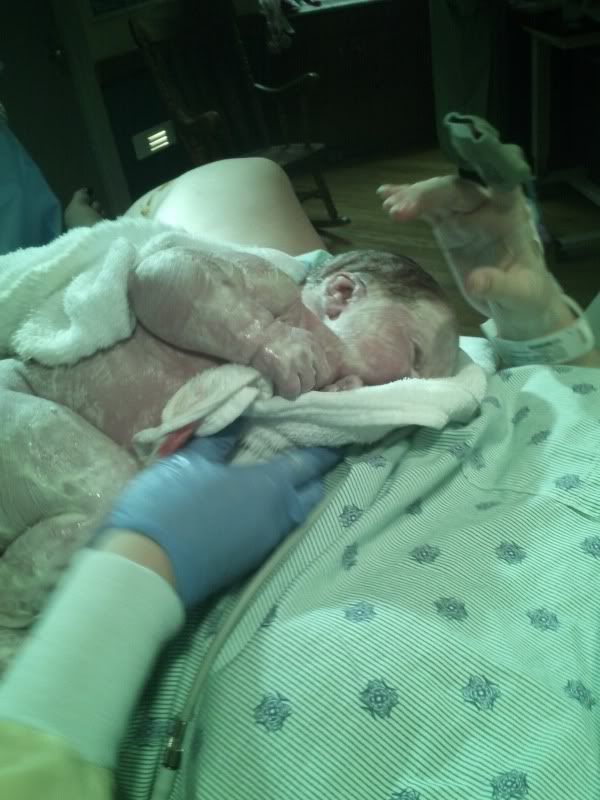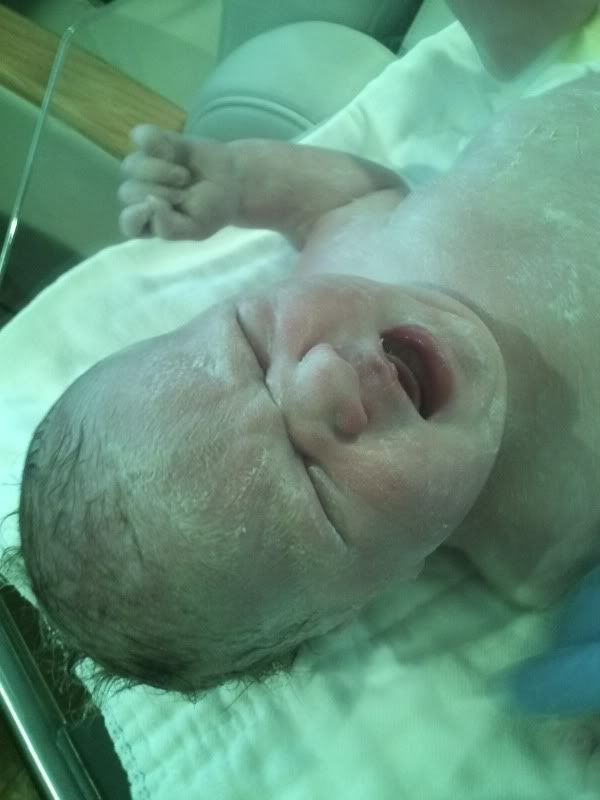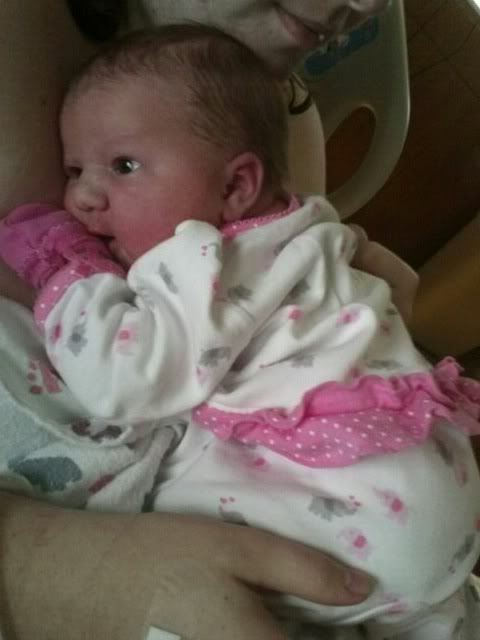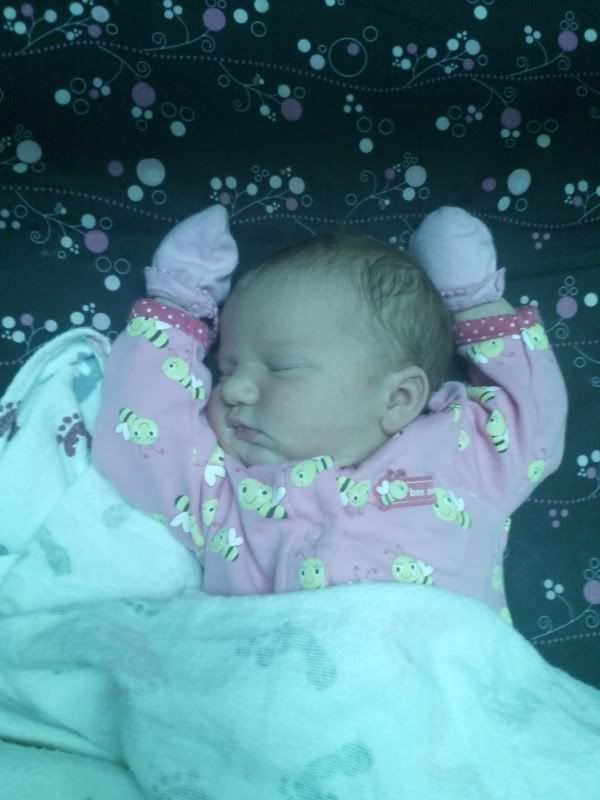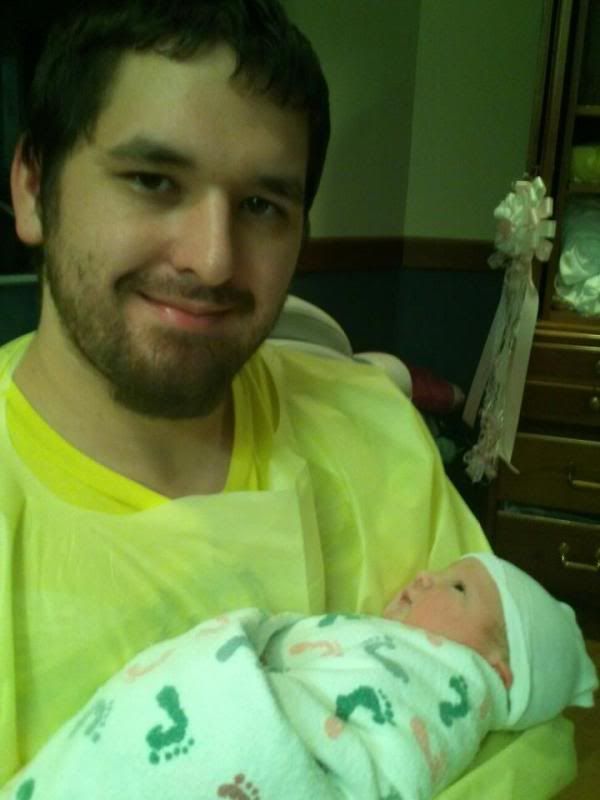 Oct 20th '12
She is so precious, congratulations! :)
Dylans mama
1 child; St Paul, MN, United States
3738 posts
Oct 20th '12
KNZ.
3 kids; Washington
59258 posts
Oct 20th '12
YAY pictures!!! soooo beautiful! and you looked super cute too :P
Oct 20th '12
I hate to hear that you had it rough, but she's a sweet little reward for sure! I'll be crossing my fingers that you have no issues breastfeeding her again. :)
Oct 21st '12
Quoting KNZ.:" YAY pictures!!! soooo beautiful! and you looked super cute too :P"
Thank you!!! I didn't bother with makeup knowing I would probably ruin it during labor anyways lol.
I can't wait to see your next LO :D .
Oct 21st '12
Quoting CockyDickJohnson'sWeiner:" I hate to hear that you had it rough, but she's a sweet little reward for sure! I'll be crossing my fingers that you have no issues breastfeeding her again. :)"
Thank you!!!