All about Labor & Birth((picture of mucus plug))
[Maliks.Mama]
1 child; West Virginia
1499 posts
May 11th '08
Throughout pregnancy, a mucus plug blocks the opening of the cervix to prevent bacteria from entering the uterus. Before labor, this mucus plug is expelled so that the cervix can open to allow the baby to pass through during labor and birth.
How soon after my mucus plug passes will labor begin?
Passing a mucus plug is a sign that your cervix is dilating and your body is starting to prepare for birth. Labor could be hours, days, or even weeks away as the cervix gradually opens over time.
What does a mucus plug look like?
A mucus plug may be clear, slightly pink or blood tinged in color. It may be stringy mucus or sticky discharge. Some women may not even notice the loss of their mucus plug because there is already an increase in vaginal discharge during pregnancy.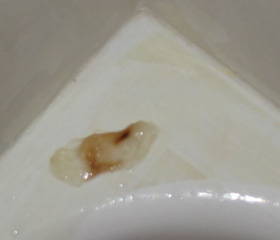 When should I call my health care provider?
If the mucus seems normal in color, there is no need to contact your health care provider immediately. You may just want to let them know at your next visit.
You should call your health care provider immediately if your discharge suddenly becomes bright red and the amount is more than an ounce (about two tablespoons). You could be experiencing a complication such as placenta previa or placental abruption.
Terms Of Labor And Birth
Abruptio Placenta (Placental Abruption): The placenta has started to separate from the uterine wall before the baby is born.
Amniotic Fluid: This protective liquid, consisting mostly of fetal urine and water, fills the sac surrounding the fetus.
APGAR : A measurement of the newborn's response to birth and life outside the womb. The ratings, APGAR, are based on Appearance (color), Pulse (heartbeat), Grimace (reflex), Activity (muscle tone), and Respiration (breathing). The scores, which are taken at 1 & 5 minutes following birth, range from 10 to 1, with 10 being the highest and 1 being the lowest.
Breech Presentation: When the fetus is positioned head up to be born buttocks first or with one or both feet first.
Cephalopelvic Disproportion(CPD): The baby is too large to safely pass through the mother's pelvis.
Cervidil: A medication used to ripen the cervix before induction.
Cesarean: An incision through the abdominal and uterine walls for extraction of the fetus; it may be vertical or more commonly, horizontal. Also called abdominal delivery; commonly called C-Section.
Colostrum: This is a thin, white fluid discharged from the breasts in the early stage of milk production, and usually noticeable during the last couple weeks of pregnancy.
Complete Breech: The baby's buttocks are presenting at the cervix, but the legs are folded
May 11th '08
Too bad the majority of this site doesn't know how to utilize the search function and will never see this... and just make another post asking :(

But thanks for the info, I'm gonna read it now so that when MY time comes I'm not posting 230482308 times about it haha
May 11th '08
WoOW:shock:

Now i feel like throwing up :(
May 11th '08
I will try to keep this bumped up!
Mavick
Hialeah, Florida
6883 posts
May 13th '08
I uhh.. How can you save this? lol
Mavick
Hialeah, Florida
6883 posts
May 13th '08
Lol the info or page.. which I think how I figured it worked.. I bookmarked it :D
May 14th '08
Thank you Ladies. I think it could help alot, if it could just stay bumped.