Our SHE is a handsome HE! Birth story and PICS! :)
talyn-HE'S here!!
6 kids; 1 angel baby; Texas
3629 posts
Jul 8th '11
Well, this pregnancy was spent mostly worrying about everything way more than I have ever EVER worried because we lost our last little angel at 20 weeks along. I had a bleed which was a partial placental previa at 16 weeks! Terrifying, and I had an ultrasound showing that my placenta was fine and moving up the side of my uterus as I grew and the ultrasound tech said it definately looked like we were having a little boy!
Fast forward to 20 weeks gestation and hundreds of boy clothes and accessories bought later and I had my regular ultrasound with my doctor. I distinctly asked "wheres the p***s" because we could NOT get a good angle on it at all and we all including doc were very sure it was a girl, but we never did get a full frontal so i should have known. I instead brought everything back, got girl stuff and that brings us to now.
I spent the last two months trying to STOP contractions and NOT go into labor! I was at 3-4 for the last few weeks. I went to my 39 week 2 day appt with my doc at a stretchy 4-5 and 70 percent effaced and my blood pressure had been rising steadily. He informed me that IF i didn't go into labor on my own that evening ( he thought i would) that he wanted me in the hospital at 9 am to have the baby. I had gestational diabetes, increased swelling despite being very hydrated as well. The plan was IF my BP was good I would walk around and progress on my own and he would only intervene to speed it up if I showed signs of needing "her" out sooner.
My bp was elevated when i got there that morning, I wasn't any more dilated but i decided to take it easy and get some sleep the night before because i just had a feeling i was gonna need the energy, and baby seemed to want it too because i really din't contract much at all during the night
I got there at 9, was admitted by 10 and on a very low dose of Pit a half hour later. I made it to 6 centimeters pretty fast, i was already contracting on my own and only at an 8 dose of pit drip so I think it just was increasing the intensity of my own. I sat at a six for a while though, having contractions 2-3 minutes apart. They hurt but were managable at this point and I was happy with it because I knew it was slowly prepping me for later.
My Nurse and attending wanted to get it going and tried getting ahold of my doctor to let them break my water. I knew he knew what i wanted though and was right, he told them at 4 pm that he was going to leave me be for now as long as I was comfortable and consistent and they only upped my pit to 10 at this point. A few minutes later I heard them discussing checking me a little rough to see if I was that close. LOL I heard a pop, and felt it too at 5:32 and I was tlaking about it with hubby and telling him about a friend on here that had the same thing while having sex and a while later her water broke! Just then, 2 minutes after the pop I began a contraction and with it my water burst all over the place! It was clear and looked fine!
They cleaned me up and checked me and I was at a 7! But her head was a little high. I needed to empty my bladder which I did. My pit was upped to a 12 ( mind you other inductions at the end I was at 200 pit getting my uterus to contract so this is very minimal dosage) and my transition began with intense contractions 1-2 minutes a part and very difficult to breath through. I couldn't have any distractions anymore and it wasn't long before i got very upset with anyone who tried touching me moving me or making an attempt to get my attention. Hubby knows better and kept ppl away or talked to me when i really needed to listen to the nurses because I just tuned them out and told them no for most things lol.
Then about 6 they had me move to my side a bit to get more oxygen to me and baby and we lost his heart beat. I was having very intense contractions but still not too much pressure and I told them I was at 8 and they could call the doctor. No one listens to the pregnant one. I continued to breathe through while they viciously tried getting babies heartbeat back and when they found it it was dropping very low. They said they had to put internals on to make sure baby was alright, I was at a 9 now and did not want them all up in me as you can imagine. But I beared down and breathed through and they got the monitor on baby in time to tell he was laying on his cord and she couldn't lift him up off of it the way he was facing. Upwards.
Well all I could think of was that he might have been laying on it since they had me move and we lost a good read on him, so I started pushing, I had less then 3 seconds of bottom pressure and I pushed slowly to make sure it felt like I was ready, I only felt the ring of fire long enough to push and I slowly crowned his head and had it out in one continuous push so they could start stucking his mouth out and getting him to breathe again. He was unresponsive and they told me not to push because he wasn't on his cord anymore but he squirmed gently and delivered himself as they were saying it. He was out at 6:17 pm
My doc wasn't there because they didn't call him till I was at a 9 (when the put the internal monitor in, so he didn't have enough time even though his clinic is next door.) I had the best attending though and Hubby looked down and back at me and said "its a boy" I had to ask him through happy tears if he was serious, a part of me thought he might be joking! hahahah NOPE! All during this time my attending doc is trying to get him to breathe. He sucks him out and gets him to squawk a little inbetween choking and cuts the cord and hands him over to the nurse to suck him out. She starts trying to O bag him and he is sputtering and blue and not getting any air!! I cna't see this but i can hear it, Just then my doc comes in and sees whats happening and pics him up in the air and starts roughly smacking and massaging his whole midsection as he coughs clear and gives us his first good breath and scream mintues after birth!! Then he shoves the nurse off to the side and gets the tubes in and down babyies throat to get all that gunk out and had her put him on Oxy for a minute till he got his color back! YAY for him! if he had been there the whole time it would hav saved my little miracle the rough nose s*****g that made him all swollen and the panic we had to endure but he came and got their in time and thats what matters!
I delivered my placenta intact, hurt a lot, about 10 minutes later with minimal assistance. YAY ME!
He was born at 39 weeks 3 days gestation! the LONGEST I have ever made it in all of my pregnancies!
He weighed 7 pounds 14.3 ounces
He is 20 inches long
He also has sandy blonde/brown hair! Long eyelashes!
We did NOT have a name picked out for him despite my knowing thier was a possibility of him not being a girl. None of the names I loved were right for him. I actually loved spending time with him nameless and finding the perfect name for him, with hubbies help. So many names I have always loved were off the table when i looked at his face and when we chose it felt so right!!
His name is
Reece Samuel Patrick, my Reeces Pieces! No other name will do for him! Still up in the air on c versus S at the end but not sure if i will change! He is so perfect and he breastfeeds like a champ! He latched on right away! They left us together for over an hour before taking him for temperature and such while I got cleaned up.
TOday I had my tubal done as well and I was scared but it went really well!! It was supposed to be at 9 am, but was pushed to 11 due to other emergencies. I am very very sore from it but its manageable and the worst for a half hour after feeding baby boy as my uterus contracts.
Hubby surprised me and brought my 5 and 6 year old sons to visit us today! I missed them, wished I could have seen them all but know it might have been a bit much. If all goes well with his weigh ins and my blood work in the morning then we might get to go home in the morning some time. Other wise it will be one more day and released the next morning!!!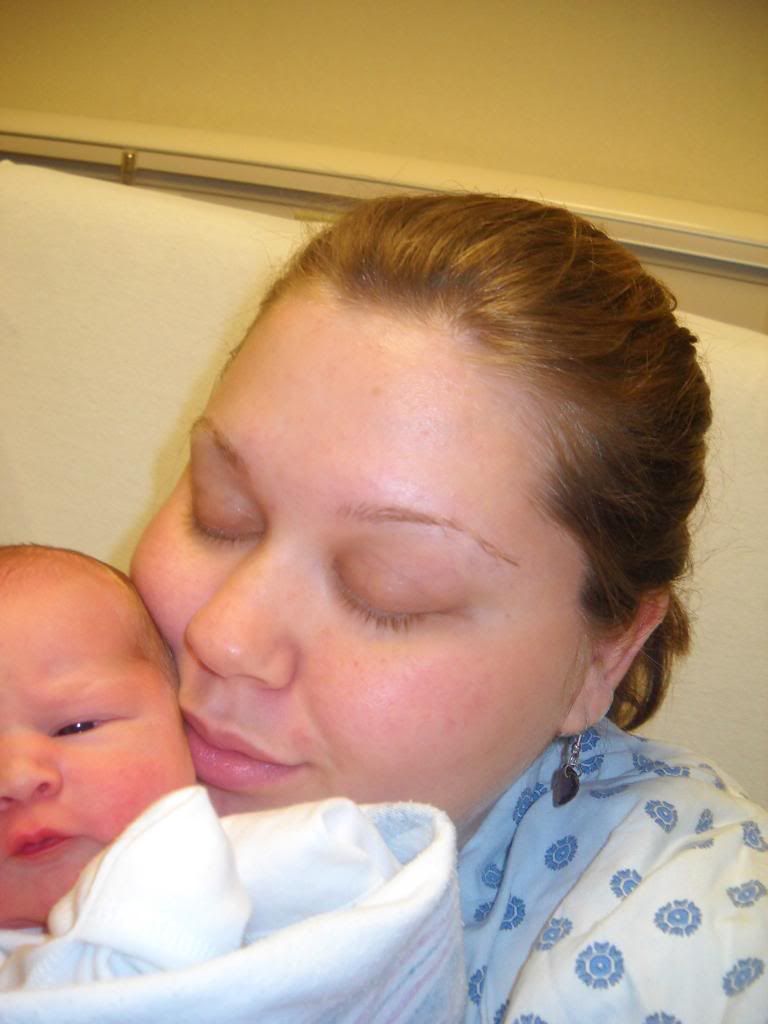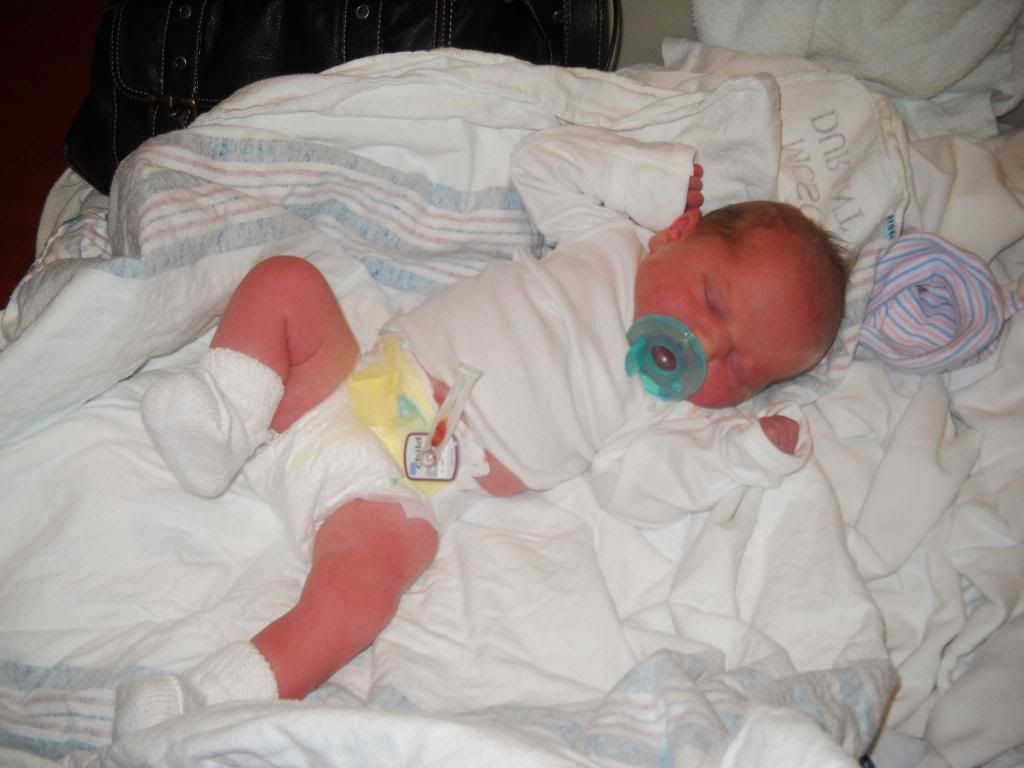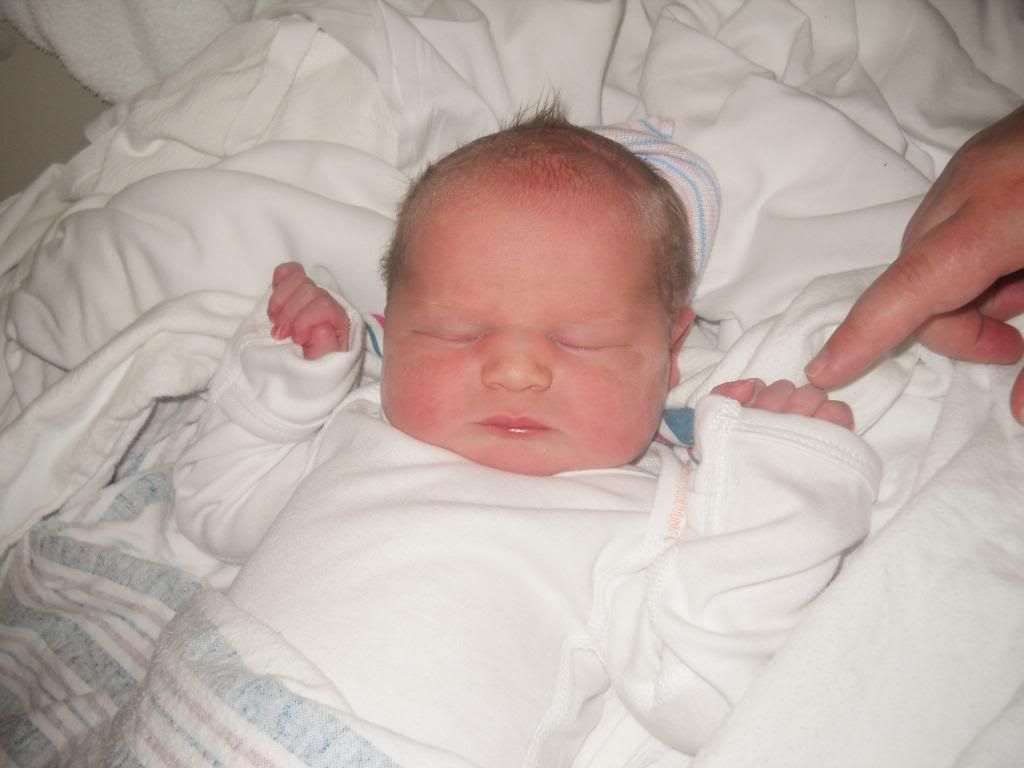 Gold
3 kids; Stuffed with a, ., Turkey
67018 posts
Jul 8th '11
Congratulations! HE is gorgeous!
Jul 8th '11
oh my goodness. he looks big! congrats! he looks very heathy.
Jul 8th '11
He's gorgeous! Congrats! And congrats on making it the farthest you ever have before!
Jul 8th '11
He is so adorable! Congrats :)
Jul 8th '11
WOW amazing!! Absoultly gorgeous baby.
Jul 8th '11
Quoting talyn-HE'S here!!:" Well, this pregnancy was spent mostly worrying about everything way more than I have ever EVER worried ... [snip!] ... then we might get to go home in the morning some time. Other wise it will be one more day and released the next morning!!! "

Congrats on your little prince! He's GORGEOUS
Jul 8th '11
Wow what an amazing story! Glad he's healthy, he's so cute!
And my son was also born at 6:17 pm. :)
SlinksterCool
TTC since Jul 2011; 17 kids; Caldwell, Idaho
2070 posts
Jul 8th '11
OMG I'm so happy for you, momma!
Jul 8th '11
Congrats!!
ALL of your sons are adorable!!! :)
Jul 8th '11
Beautiful baby I love his chubby cheeks :) Congrats!
Jul 8th '11
Oh he is perfect, great birth story. Enjoyed reading it! I love his perfectly round cheeks! Reece is a perfect name for him, fits his little face!!
Congrats!!