Dec 9th '10
welp i am here

elijah allen
november 7th
5 lb 3 ounces
17 and a half inches
Dec 9th '10
I think mine is technically winter but since you Nov mamas won't let me leave you're stuck with me now :wink:
Gracie Claire came on her own 3 days late on December 1st, 7lbs 10oz 20.75in! She is super easy baby, nursing champ and almost up a pound by a week old:)
Dec 9th '10
Does September 13th count? It's technically late summer, but he feels like a fall baby to me b/c weather was already changing then.
Dec 9th '10
Sure yeah, they'll all be pretty close in age so easy to talk about together
Dec 9th '10
Hey Guys :)
Malia was born 10/30/10 (devils night :roll: DUN DUN DUN) lol
She was 7lbs 4oz & 19 inches long
She's 8lbs 8oz as of 2 days ago (5w)
These are my children <3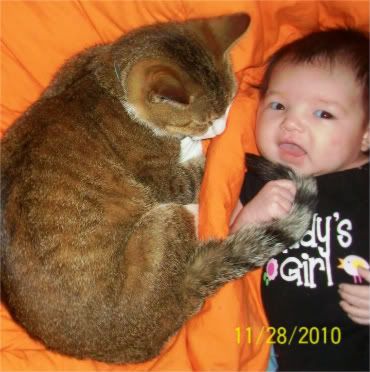 Dec 9th '10
Owen was born 9/13/10 (my 3rd Wedding anniversary :)) and was a whopping 9lb8oz, and 23 inches.
He will be 3 months old on Monday (I can't believe it). He is approximately 14 lbs, and already in 6 month clothes. He is smiling, giggles once in a while and working on rolling tummy to back.
user banned
2 kids; Kingsport, Tennessee
11075 posts
Dec 9th '10
Tyler David Grindstaff.
November 9th, 2010. 12:43 p.m.
6 lbs 7 oz, 20 inches long.
He was due December 2nd, but I had to have him early by c-section because of a complication.
He's a month old today on his Daddy's birthday. =]
Dec 9th '10
hi everyone
my little man Gabriel harmon was born excatly 3 weeks early on 10/26/10. he weighed 6.3lbs and was 18.7inches long. he is going to be 7 weeks tuesday and as of 12/7/10 weighed 9lbs.
.:Amy+2:.
TTC since Dec 2014; 2 kids; 1 angel baby; Amarillo, Texas
13355 posts
Dec 9th '10
.:Amy+2:.
TTC since Dec 2014; 2 kids; 1 angel baby; Amarillo, Texas
13355 posts
Dec 9th '10
My beautiful Rylie was born Nov 4, 2010 at 2:16 am via c/s :) She's 5 weeks old today! Can't believe that!!
Dec 9th '10
Hi everyone :)
I'm Tricia. My husband is Brandon.
My November baby's name is Bentley. He was born on November 9, 2010
He was 7 lbs 13 oz & at 1 month weighs in at 10 lbs 4 oz. He is EBF.

I have another little one named Brayden. He was born on July 21, 2009.
He's now almost 17 months old and today is being a little terror. :twisted: But he is usually very sweet..
Dec 9th '10
hello ladies!
my names sabre. my daughter was born on nov. 29th at 9:31 less then a day after i was due! she was 8lb 10oz 20in.