Jan 27th '11
Quoting skank.:" I read it all. Don't knock yourself for the decision you made. He knows you love him. *Hugs*"
:!:
Jan 28th '11
Quoting Jenna (24 weeks with twin:" Thankyou so much ladies for the kind words.. Ive been incredibly lucky to meet such lovely ladies on ... [snip!] ... time to read it... and i just wanted to say from the bottom of my heart thankyou for your prayers and thoughts for our son...."
Never live in regret. You made a very good choice as a mother and did what any mother would do for their child....no more suffering no more pain. I myself sometimes wonder the same. Why?What if? I truly believe something guided you to let your baby go just like it did with me. I woke up one day and it was like I was a different person. I was in the same situation but my son was 34 days old and I had a c-section at 37weeks. Although it wasn't chrom21 it was CCHS a breathing disorder that would not allow him to live a life that he deserved. It is harder to let them go than to keep them, this I have finally realized....much harder.
Stay strong:)
Feb 1st '11
Thank you for sharing your story, it truly made me feel for you. Don't beat yourself up over this, I believe you made the right decision and later in life I believe you will be rewarded for it. I hope you continue being the strong woman you are I admire how strong you are for this. *hugs* and my thoughts will be with you :)
Feb 6th '11
i cried like a baby when i read your story. thank you for sharing your life. i am 15 weeks pregnant and so far, all is well, but reading your story shows me the wonderful strength that god has given you. your story is not fair. not at all. i saw on your page you are now pregnant with twins, and that warms my heart. i wish you all the happiness in the world and know that someday you and your husband will hold your other child again someday. much love and lots of prayers.
Feb 12th '11
My heart weeps for you. You are such a strong woman. You made the right choice and now your little man is resting easy with the lord.
Feb 13th '11
Hey momma, I remember reading your story way back when it all went down. I'm so happy at the love you and Aaron have shown through all this. Wow twins! Congrats momma:-) And lil bean is in a safe place now being taken care by the best people in existance! Congrats on the new little ones I wish you nothing but the best! :-) You were meant to be parents and bring babies into this world! Stay strong momma! :-)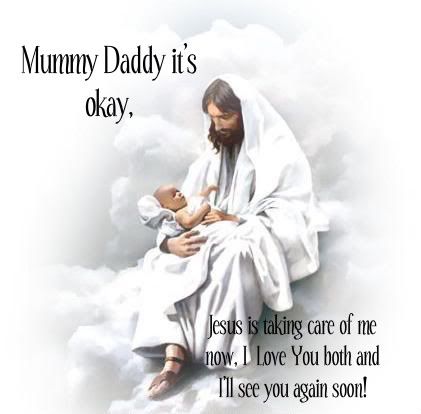 Feb 13th '11
You are an incredibly loving and brave woman, my heart goes out to you, and your little man is in my thoughts. <3
Feb 14th '11
I am having a hard time coming up with words to say, Thank you for sharing your story, it has opened my eyes a little. I can't imagine how all of this must have felt for you. God just wasnt done with your lil man and needed him back to perfect him for you, and he knew you were a strong enough woman to help him get him back. And now u r getting 2 babies! Congrats on twins, after all you and hubby have been through you deserve them!
Feb 27th '11


You are very brave and did the right thing. I will pray for you and your twins! best of luck to you and your family, I will pray for you!
Feb 27th '11
I'm so sorry sweetie. God must have needed another angel and he's up there watching over his mama.
Mar 9th '11
I'm so sorry Mama <3 I'm crying with you! I can't imagine having to make the decision you made! you're so strong!!
Mar 16th '11
You have nothing to feel guilty about, your precious little boy is flying around in heaven with all the other angels looking down on you and i bet he is so happy up there. and he knows you love him.


*hugs*hugs*hugs*
user banned
Wisconsin
846 posts
Mar 16th '11
I read this and I am so sorry for your loss. I would have made the same decision. You did what was right for your baby.
Mar 18th '11
omg this makes me want to cry..i will pray for yur son..
Mar 21st '11
i read your store and i must say i think i would have made the same decision! you and your husband are very strong for the decision you made! just know that your little boy will always be watching over you and your family an he will always love you!