Oct 27th '07
Good luck today Erika... You will have so much fun! For sure take lots of pics.. even of the food.. :P
Oct 27th '07
Just wanted to stop in and say hi to all of you fantastic ladies! I love coming in here and checking on all of you...I remember being cycle buddies with you not that long ago!:wink: I can't wait to be able join you all in here!!!!
Love you guys!!! Continued happiness and health!!!
Oct 27th '07
oooo!!! you have ovulation soon too... I am keeping an eye on all you cycle girls... now get to bdin!! :D
Oct 28th '07
Where is everyone this weekend?? Shesh!!! I was so bored last night I climbed into bed at 730 :shock: on a saturday night :shock: Oh well it was a long hard tummy day. Kevin thinks I need to see someone about my tummy issues.. he is so funny!! I am going to get him a daddy book so he can stop freaking out for every cramp and every ache I get... I feel like I have to walk away from him every time I get the stretchy feeling in my hips... he thinks something is wrong. He is sooo worried all the time. Count my blessings I guess... I have someone that actually cares this time around and it is new to me too!
Oct 28th '07
Hey hey everyone!  Sorry, I wasn't on much yesterday.  I had a busy day.  First, I was doing a community service project with my sister.  In Arizona, once a year they have an event called the Rock and Roll Paint-a-thon.  Low income families can apply to have the exterior of their house repainted for free.  There are large companies that supply all of the paint and materials, food, and water.  So we got the home of an 84 year old woman that lives on $600/month.  :(  She was so sweet and so appreciative of what we were doing for her.  The house turned out amazing.  But my preggo butt was sure tired when we were done.  It definitely didn't help that it was 97 degress out.  :shock: Ya, gotta love this AZ heat.  NOT!
So I get home from the paint-a-thon and shower then head over to my in-laws.  It was my hubby's little brother's Birthday party.  I was sunburnt and dead tired, so I just hung out on the couch most of the time.  It was fun, and lots of yummy food.
Today I will be gone again.  We are going to a pumpkin carving party.  Then my in-laws are having their monthly family dinner.  They have 10 kids, so they try to get everyone together once a month for dinner and to hang out.  I probably won't be on much til tonight when I get home.  Hope you all have a wonderful day!!!
beandis
34 kids; sparta, wi, United States
6997 posts
Oct 28th '07
wow tiffany! sounds like you had a very busy day! just hearing about it made me tired! i love that idea of a paint-a-thon, such a wonderful gesture to do for someone who otherwise couldn't afford it!
Oct 28th '07
No kidding I think I need a nap just reading that! That is a great thing to do for people though. And big family dinners are my favorite. I hope my kids dont move far away so I can do that when they get older :)
Oct 28th '07
Hey ladies! The shower yesterday was fun, but of course, the people who
said they were coming didn't come. But we had fun anyway and people
said they would be sending gifts this week. We ate good, we laughed,
played some games and talked about Monkey. I'm posting pics of the best
gifts I got, the cute cake and the Baby Lotto board. We decided to keep
that board up on the wall until Monkey is born, then the person who is
closest will
get a prize from Monkey. So here are the pics!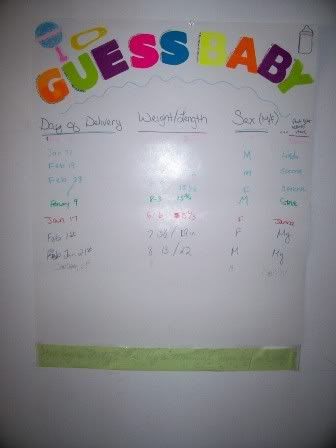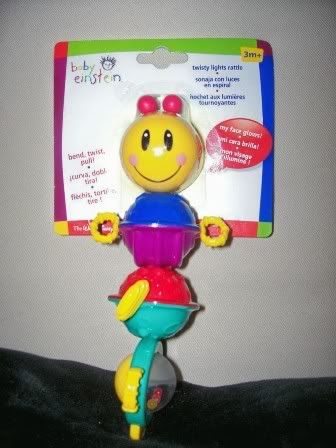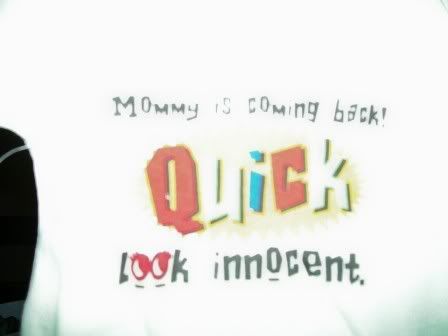 twiggie
83 kids; Ireland
1150 posts
Oct 28th '07
thats great, we dont really do baby showers here its a great idea though
beandis
34 kids; sparta, wi, United States
6997 posts
Oct 28th '07
looks like you got some fun things - those onesies are ADORABLE! and your cake looked so awesome! (now i'm hungry:wink:) glad it was a fun time!
Oct 28th '07
Thanks ladies! We had a blast. My dad is already talking about shopping
some more when he and my little sister come out here for Christmas.
Then my mom is going to get a bunch of stuff when she comes out in
January. And people are still sending stuff in the mail! My family is
great...I love them and the fact that they're just as excited about
Monkey as I am!
Oct 28th '07
how fun!! yeah that cake looks yummy! dang it... now I want cake.
Hubby and I went to lunch this afternoon... all you can eat mongolian bbq. OMG ladies I ate some serious food! But hubby wasnt that hungry and didnt eat to much and I was dieing to go get seconds but didnt want to feel to horrable that I seriously out ate my hubby! Everytime we go out I out eat him... but at home he stuffs himself silly. I dont get him!
We went to a baby store after that. But really didnt see anything I liked. Man they have so mach useless crap now. I am looking at most of it thinking...hmmm I got threw 2 kids with out ever needing that or thinking I did need that.... shesh. I was looking at a swing that had a mobile attached to it and the toys faced outward... how the heck is the baby supose to see that when I am looking at the toys head on..and the baby is underneith it. How does this even make it onto the selves... baffles me.
Oct 28th '07
Erika it looks like you had fun at the baby shower!  :)   So happy for you :)

Boy today was a busyyyy day.  My friend/coworker called at about 20 minutes til noon (I'm a night shifter, I'm preggo, so I sleep late ;) ) to see if I wanted to go to the fair with her.  Well Duane and I decided to go and it was just a small town fair, not really worth the $10 we paid to get it ($5 each).   It was really warm today, so the heat, and the smells made me sick... I'd only had a bottle of juice before going, so of course there was a mad dash to the public bathrooms to try to throw up quietly (hard when public restrooms are designed for maximum echo).  Anyway, after that the three of us went to lunch, and, of course I out ate both hubby and friend. 
Me and Duane then went to his father's house and sat around and chit chatted for a while.  They were going to go to dinner at hubby's aunt's house and invited us along, which is aunt just loved (seriously she was happy we came by :) ) and OMG girls.  Homemade twice baked potatoes and steak, and salads.... Yummy :-D  Now I'm ready to go to sleep and it's only 9:30!
Oct 29th '07
hey girls what's up? How was the weekend?  I love the thermometer that you got miz_pooka.  Looks like it would work better then most that you see at Target or where ever.  Glad you had fun at the shower - i'm jealous i can't wait for mine - i love the silly shower games  :)
Oct 29th '07
nurse_maya28 wrote: hey girls what's up? How was the
weekend?  I love the thermometer that you got miz_pooka.  ...
[snip!] ... where ever.  Glad you had fun at the shower - i'm
jealous i can't wait for mine - i love the silly shower games  :)

When
is your shower? I think I might have another shower in December with
the org I used to work for. They've been saying that they might do one
and I know they really want to, so we'll see. Have fun at your shower!
Don't let anything make you regret having one (people don't show, don't
get the gifts you want, etc), because it's supposed to be a fun and
exciting day, no matter what!