dream
3 kids; 1 angel baby; Linz, Ob, Austria
59820 posts
Oct 6th '10
I would like to add:
THE possible police (mtka
http://members.baby-gaga.com/member505956
I bought some clearance items from her. I also sent her a jacket of mine (off-white) which was stained and she tie-dyed it for me. I sent her a long-sleeve mama top (white) also with a little stain on it and she dyed that for me AND a 2T T-shirt and put matching BFing logos on them. And on top of all that, I gave her some white onesies I didn't need and she dyed one of them for free to match my other things. =D
We communicated back and forth for 2 months to coordinate it all (I live in Austria) and became "BG friends" in the process. She's awesome and if I don't watch out, I will be spending way too much money on getting more stuff from her! :D:D
Oct 6th '10
I'd like to add member Jillian [+ Elisa] http://members.baby-gaga.com/member654329 .I bought an adorable Daddy Loves Me outfit from her and she shipped fast and had great communication! I highly recommend that people buy from her.
Oct 6th '10
Would like to add this mama
http://members.baby-gaga.com/member297829
Shipped fast,amazingly beautiful soaps and they smell terrific!
I almost don't want them to get unpretty!
these are the soaps I got :)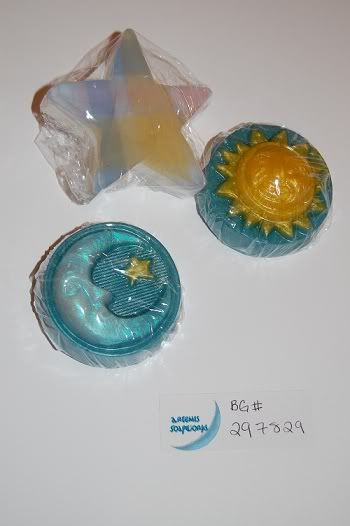 Oct 6th '10
I would like to add Nerissa http://members.baby-gaga.com/member579728
i bought a 3pck of 0-3 month onies brand new from her && a newborn mickey mouse outfit from her! everything is perfect. she shipped on monday && i got it today! I WOULD DEFINITELY BUY FROM HER AGAIN!
Oct 6th '10
Adding Mandi -http://members.baby-gaga.com/member36787
I order a bracelet from her and i loved the way she shipped it so no damage would happen, just great. She was so nice when i placed my order and understanding! She has beyond great customer service skills, She is so nice to her customers def. makes you want to come back and buy more! Thank You so much Mandi for everything! Def. recommend her bracelets and her service! :)