Jan 3rd '08
hey my baby girl was born sept 2nd i was 37 weeks she was 3 pounds and 10 ounces..17 inches long now she 12 pounds and 23 inches long
when she was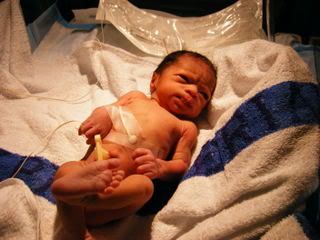 xmas day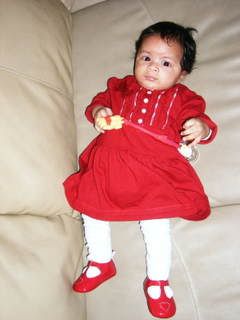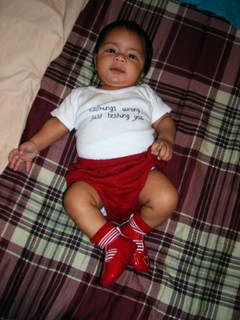 Jan 3rd '08
Quoting blessedwiththree:
Jan 4th '08
Eva was boen Dec 4th and was 22 weeks. She was 1 lb 2 oz 11 inches long. She has been in the NICU for a month and is 2 lbs 2 oz!!!
Jan 7th '08
Julian was born October 1st at 30 weeks and 4 days, weighed 4 lbs, 5 oz. He is now 14 weeks to the day and weighs 12 lbs. The little porker.:P
Jan 7th '08
my boys were born at 33 weeks and two days weighing 4 10 and 5 5. At there two month check up they were 10 and 10 4. It is so hard to remember them being little. They are so perfect.
Jan 10th '08
My son also named Jaeden was born at 33 weeks due to my preeclampsia he was 4 pounds 9 ounces 17 inches long. He is now 2 months and weighs 13 pounds 2 oz. and is 23 1/2 inches long!!! the docters and i cant believe how huge he is getting!!
Jan 10th '08
my son connor was born at 32 weeks 5 days and was 3 pounds 10 oz. he came home from the nicu a month after he was born and is now 7 weeks old and 7 pounds even and about 19 inches long. he rolled over last night (way early i know) and he tries to hold his head up. he makes faces and is started to be awake more during the day but its hard coz the medicine hes on
Jan 11th '08
well my first daughter was born at 32wks and was 4lbs 6.2oz 16ins long. she had to stay in the NICU for 2wks and was able to come home. i got lucky she had no serious problems, and she is a healthy;typical 16month old little girl, i got very lucky!! but my second daughter was born at 30wks and was 3lbs 10oz 16ins long. i wasn't so lucky with her; she had to stay in the NICU for 2 1/2 months and she had to be put on oxygen for the first week she was born and then she could not eat anything at all even through a tube. i thought she was not going to makeit. but slowly she seemed to do better and then she startedto quit breathing out of nowhere.and she continued to do that for about a week untill they had to give her numerus blood transfusions. and then she was finnaly strong enough to come home ;but she was on caffine and a monitor for the first month she was home. now shehas benn home for 2months and she is doing very good. so i'm very blessed and lucky to have 2 little girls as healthy as they are for as premature as they were. i know there are many moms out there that wasn't so lucky and to all of them moms that lost there babies because of prematuraty; i want them to know that my heart goes out to them. and my god bless them. iknow how that feels and i know what you are going through.
Marie♥
18 kids; Virginia
254 posts
Jan 14th '08
Meredith was born at 34 weeks and 5 days and she was 5lbs 1.5 ounces and 20 inches long. and now she's 13.5 lbs and 26 inches long and 5 months old :)
Jan 14th '08
my son logan was born christmas this yr.. well technically last christmas 12/25/07.. at only 27 weeks and 4 days... he weighed 2 lbs 14 ounces.. and was 14 inches long.. he is now 3 lbs 3 1/2 ounces.. and 16 inches long.. he is currently in NICU in cape giradeuo missouri and doing really well.
Jan 15th '08
When Brianna was born (at 35 weeks) she weighed 4lbs 14oz and was 18 inches long.
Newborn Brianna
NOW
Brianna 2 months old- 9 lbs 13 oz and 21 1/2 inches long

shawmama
34 kids; Vista, California
4082 posts
Jan 16th '08
Ethan was 3lbs 10ozs at birth and now at 8 months he is about 14 1/2 pounds. I will find out for sure on Friday.

A few hours after he was born




Now :)

Jan 18th '08
Yall Aint Got Nothing On My Son Andre Arlando. He Was Born At 24 Weeks 1 Pound 3 Ounces. He Is now 33 Weeks Wieghting At 3 Pounds 6 Ounces. We Have Had A Day Where Me N The Father Almost Lost Him But Next Day He Was Just Fine Like Nothing Happened. He Now Has A Shunt In His Head He Going To Have It The Rest Of His Life. But He Still Will Be Able To Live His Life Like A Normal Child.