Contest: "PURR-fect Kitty" **SIGGYS ARE DONE!! on first pg**
Host: *-PoisonIvysMama-*
FINAL RESULTS
Show Rules
"PURR-fect Kitty" **SIGGYS ARE DONE!! on first pg**
*-PoisonIvysMama-*
2 kids; Alaska
6593 posts
May 23rd '10
ALRIGHT!! I LOVED DOING THIS!! Kitties are so neat! I took a little longer than I wanted w/ these because I had two designs. Anyway I hope you like them!
Callie 1st Place
Pitty 2nd Place

Helixx 3rd Place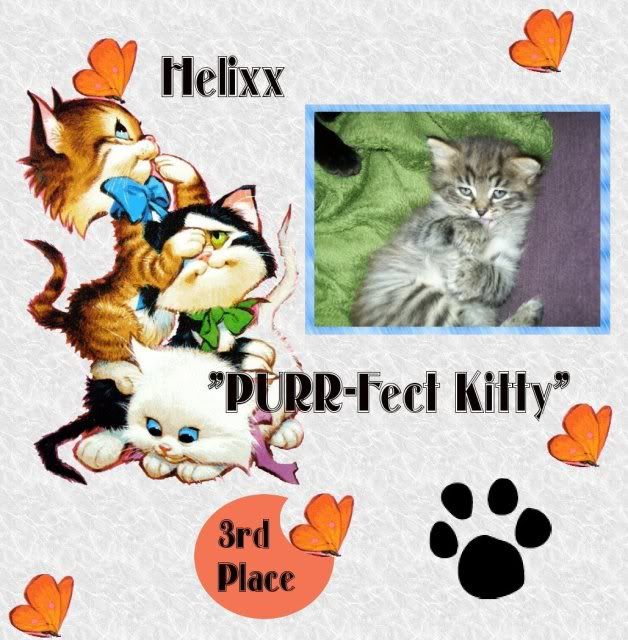 Thank you all for voting, and entering, and sharing with me and others your PURR-Fect kitty/ Kitties!!
I will do this contest again next month :)
May 23rd '10
My cat, Killer, 13...She is "purr-fect" at puking on the carpet and flinging her poo out of the cat box...Oh and she's pretty good at snuggling too :)
May 23rd '10
Alaura-Ly
2 years old

Why she rocks anyone's socks: She is sweet and rubs my back when I'm upset.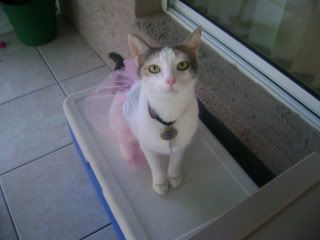 May 23rd '10
Peanut aka Peanutty
He is 4 years old
He is Purr-fect because he plays fetch with foil balls, shakes hands, and poses for me when I take pictures of him<3

May 23rd '10
Quoting Len+Lene=Brileigh:
May 23rd '10
Princess Penelope - i just love how she always loves to cuddle and rubs foreheads with me (:

Mamalizzz
3 kids; Los Angeles, California
512 posts
May 23rd '10
This is Chucky. His almost four years old. His a Purr-fect little troublemaker and is always making he's mommy smile =]

http://i7.photobucket.com/albums/y263/lizzy1627/2010-05-05101528.jpg
May 23rd '10
Quoting *-PoisonIvysMama-*:
Mamalizzz
3 kids; Los Angeles, California
512 posts
May 23rd '10
<blockquote><b>Quoting *-PoisonIvysMama-*:</b>" I am having trouble w/ your link, make sure you add the direct link after pressing the "link" button ;) If you need more help let me know."</blockquote>
I cant find one lol I'm going crazy I think
May 23rd '10
Sassy is her official name but she's never been called that. We all call her Meow-Meow. Always have, always will. She's about 14-15 years old.
She is awesome because she went through a house fire with us when I was 5. She was the first thing I grabbed when my mom told me to get out of the house. She is the ONLY cat out of three that will ALWAYS let you hold her. She's so loving and I've been through pretty much everything with her. She's also lived pretty much her whole life with a hernia from being "fixed" wrong. She's a pretty tough kitty.