Mar 20th '10
I just gave my 2 month old a bath and noticed after drying her off that her neck fold is pretty raw and red looking. Any ideas on what it is and tips of what I can do to help it feel better? It looks painful. :(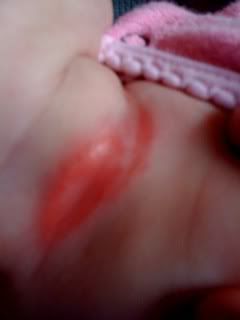 Mar 20th '10
OUCH! that does look painful!!
is that the front of her neck??
if you could, try and keep it very dry and clean- use talc free powder (corn starch if you need to) to help keep it dry and you can also put some diaper rash cream on it- buttpaste works pretty well, or you could use some neosporin but i think the buttpaste may work better for her skin.
Mar 20th '10
Quoting Tobys Mommy [Lisa]:
Mar 20th '10
I swear by Desitin for those patches. I'm really careful with Aubree's neck folds because she's so chunky, but she's gotten raw patches in her armpit a couple times that are exactly like that. I just put a nice thin coat on it and the difference in even just a few hours is amazing.
Feb 23rd '12
My baby has a severe case of this. His neck is very raw and wetish looking when we move the fold back. I was wondering what cure you found that was best? my email is t2the2@gmail.com. Very worried and would appreciate any answers. THANKS!
Feb 23rd '12
My daughters neck looks the same exact way! I literally just posted on this subject..u seem to have gotten more answers than I did. Im going to try the desitin suggestion, it seems to make sense.