Anya Nicole is here!
Heather, Enchanted
TTC since Nov 2010; 2 kids; Madisonville, Kentucky
1936 posts
Mar 1st '10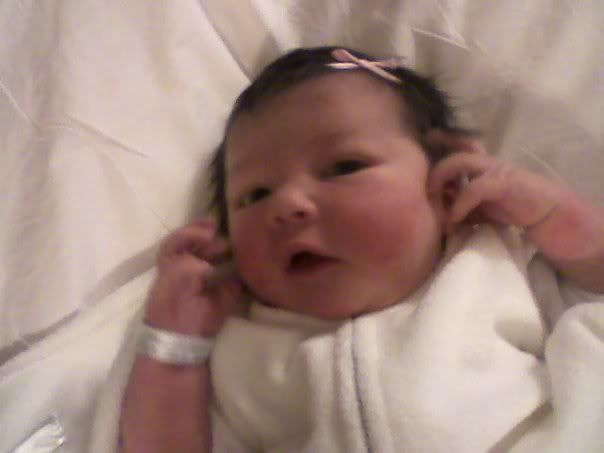 Anya Nicole was born at 7:27 in the morning on Sunday February 28, 2010.
Saturday night my water broke around 10pm. I was having absolutely no contractions so I meandered about, getting my stuff together. I told my mother in law at 10:45 that we should go to the hospital, and then 45 minutes and 3 outfit changes later, we were on the way. Still no contractions.
By midnight I was in a bed being checked to see if I was really leaking amniotic fluid. The tests were inconclusive, so they just monitored me for a bit. At 2am they told me they were admitting me and checked my cervix - 1.5 cm. They told me that if, by 4 am, I hadn't progressed they were going to hook me up to oxytocin. So I slept. I was still not feeling any contractions. Somewhere in the middle of all that I got up to pee and my water gushed everywhere. I was like, "do you believe me now?" xD
At 4 they came to check me again, and I was at 4 cm! I told them that I wanted the epi before I could feel any pain at all. They called up the anesthesiologist and he took three tries to get it in my back - resulting in a lovely bruise. After all that was over (at about 5am) I was at a six.
By 7, I was at 7 cm. At 7:20 I called the nurse in because I felt pressure down there, and a lot of it. She checked me and I was at 10!
It took two pushes to get her out, and I didn't even tear or anything. She came out with a LOT of hair, and scored two 9's on her APGAR. She weighed 7 lbs 12 oz and was 19.5 inches long. :)
Thanks for reading!
Mar 1st '10
Congrats mama, she's gorgeous! I love her hair!!!:D
vel2n
2 kids; Houston, Texas
19948 posts
Mar 1st '10
lucky duck! my contractions were brutal when my water broke. shes beautiful!
Mar 1st '10
You had a quick labor! I'm jelous! She's beautiful! I love all that hair she has. Congrats :)
Mar 1st '10
she's so cute! congratulations!
Mar 1st '10
Awww congratulations! She's Beautiful!
dream
3 kids; 1 angel baby; Linz, Ob, Austria
59820 posts
Mar 6th '10
congrats from all the March mommas!
Mar 6th '10
You made labor sound so easy :). Congrats on your baby girl!